CE Marking and Global Technical Compliance Seminars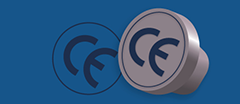 Invest NI is holding a series of seminars to provide guidance on compliance, European and Global standards.
There were significant changes to CE Marking legislation in April 2016 with changes to the Declaration of Conformity and additional obligations on manufacturers, importers and distributors. Attend one of our seminars to make sure you are compliant.
The seminars will help you determine the route that is most appropriate, cost-effective and efficient for your products and will focus on the following areas, CE Marking - Electrical & Mechanical and Global Technical Compliance.
Invest NI can provide Brexit help and advice for your business. To find out more visit our Get ready for Brexit microsite.
What is CE Marking?
CE Marking is mandated by European Directives. Many products are covered by these directives and, to be placed on the European market, must bear the 'CE' mark - it's a legal requirement. CE marking is the claim that the product meets the essential requirements of all relevant Directives, and can be legally supplied and move freely throughout the EU.
Find out more information about CE Marking