CEO speech at NI Executive Press Conference 29 May 2020
29 May, 2020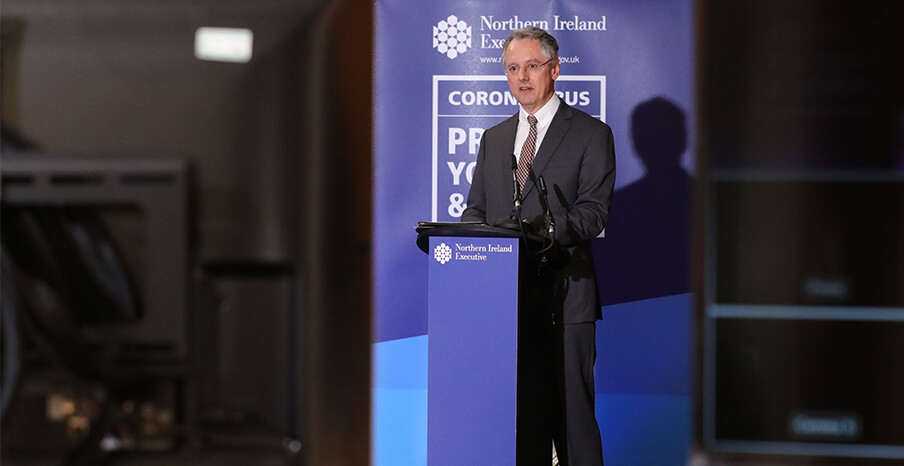 Below is the speech given by our CEO, Kevin Holland, at the NI Executive Press Conference today.
Thank you Minister for the chance to talk today about business recovery.
Clearly while Covid-19 is first a health and society issue requiring immediate measures to protect people, it has also created significant economic challenges locally and around the world.
All businesses are impacted, regardless of size or sector, as are many employees. Consumer and industrial demand has significantly reduced, and many businesses have lost key markets as business output has declined. The team at Invest NI has been actively engaged to inform and support businesses during this fast pace period.
We have seen that many NI business, have shown agility, creativity and resilience, for example repurposing to meet the PPE needs of our Health sector, modifying operations to enable home-working or introducing online selling creating new channels to market.
Going forward continued social distancing, high levels of remote working and an even greater use of technology will change the world of work, and how we work. Some businesses will emerge relatively unchanged, and some stronger. Others will have a short term downturn, and, unfortunately, others may not recover.
So what to do? We have committed 1800 hours of business interviews to provide evidence for a staged economic recovery plan laying out how business and the economy can Return, Reset and Rebound and we see good signs.
Locally at its peak, over 200,000 people have been on furlough. Encouragingly, some of our client companies are indicating an intention to return 25% of furloughed employees back to work. First priority will be to ensure a safe return to work, with the necessary social distancing and protective measures and to safeguard substantial jobs and incomes.
Then let's build from the agility, creativity and resilience, Northern Ireland business has shown in the face of this crisis and move quickly to compete in an undoubtedly more demanding global business environment
Northern Ireland is small and nimble enough to move faster to competitive recovery than other places. We should seek out opportunities from this time of change, whether that is through enhanced digital solutions (and NI has great strengths in this area), looking to the high value 'Sectors & Markets' of the future world, placing NI in the centre of robust, resilient supply chains or supporting companies with high growth potential. NI resilience has not gone unnoticed globally and further increases our standing as an attractive investment location.
Building phased recovery and supporting our whole economy to Return, Reset and Rebound will require real partnership, real collaboration and just really good business insight.
We look forward to helping make the Northern Ireland coming out of Covid-19 stronger than the one that went in.