Co. Down baby business shnuggles export sales with niche product
11 April, 2013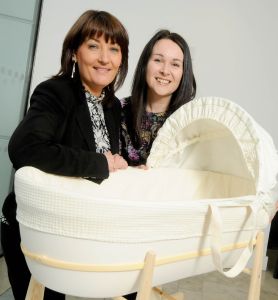 Newtownards based Shnuggle Ltd has recently secured new business in Greece, Spain and Japan with support from Invest Northern Ireland.
The company designs and manufactures innovative baby products for modern parents and was established in 2011 by husband and wife team Adam and Sinead Murphy. Sales of its award winning Shnuggle Moses Basket have increased by 40 per cent as a result of a £60,000 investment by the company aimed at boosting its customer base and marketing capabilities.
Shnuggle aims to quadruple its sales across Great Britain and Europe by 2016 and secured this export business at Harrogate Nursery Fair last month. The innovative Shnuggle Moses Basket is stronger than the traditional basket and quieter because is not made from wicker. Its semi-rigid plastic like shell is hypoallergenic and hygienic which helps prevent allergies.
Invest NI has offered Shnuggle Ltd £10,850 of support towards its development plans which include recruiting a Business Development Manager and exhibiting at a number of trade shows across Great Britain and Europe.
Shnuggle Ltd was prompted by the Boosting Business campaign to contact Invest NI for help with growing the business in markets outside Northern Ireland. Sinead Murphy said: "We have always had big plans for our business but with the guidance and financial support from Invest NI we can fast track these plans and reach our goals sooner."
Oonagh Hinds, Manager of Invest NI's Eastern Regional Office, added: "Shnuggle Ltd is a vibrant, young business offering a niche product in the growing nursery sector. This company has significant export potential and its investment will give Shnuggle Ltd the capability and resources it needs to secure further contracts with retailers and wholesalers in its target markets."
Shnuggle Ltd is currently benefiting from research and development support from Invest NI, part funded by the European Regional Development Fund, to expand its portfolio of products. Its new product offering is expected to be launched to market later this year.
The Shnuggle Moses Basket was recently named best In Home product by The Baby Products Association at Baby and Nursery Trade Awards (BANTA).