EY Announces 486 jobs in Belfast
28 April, 2014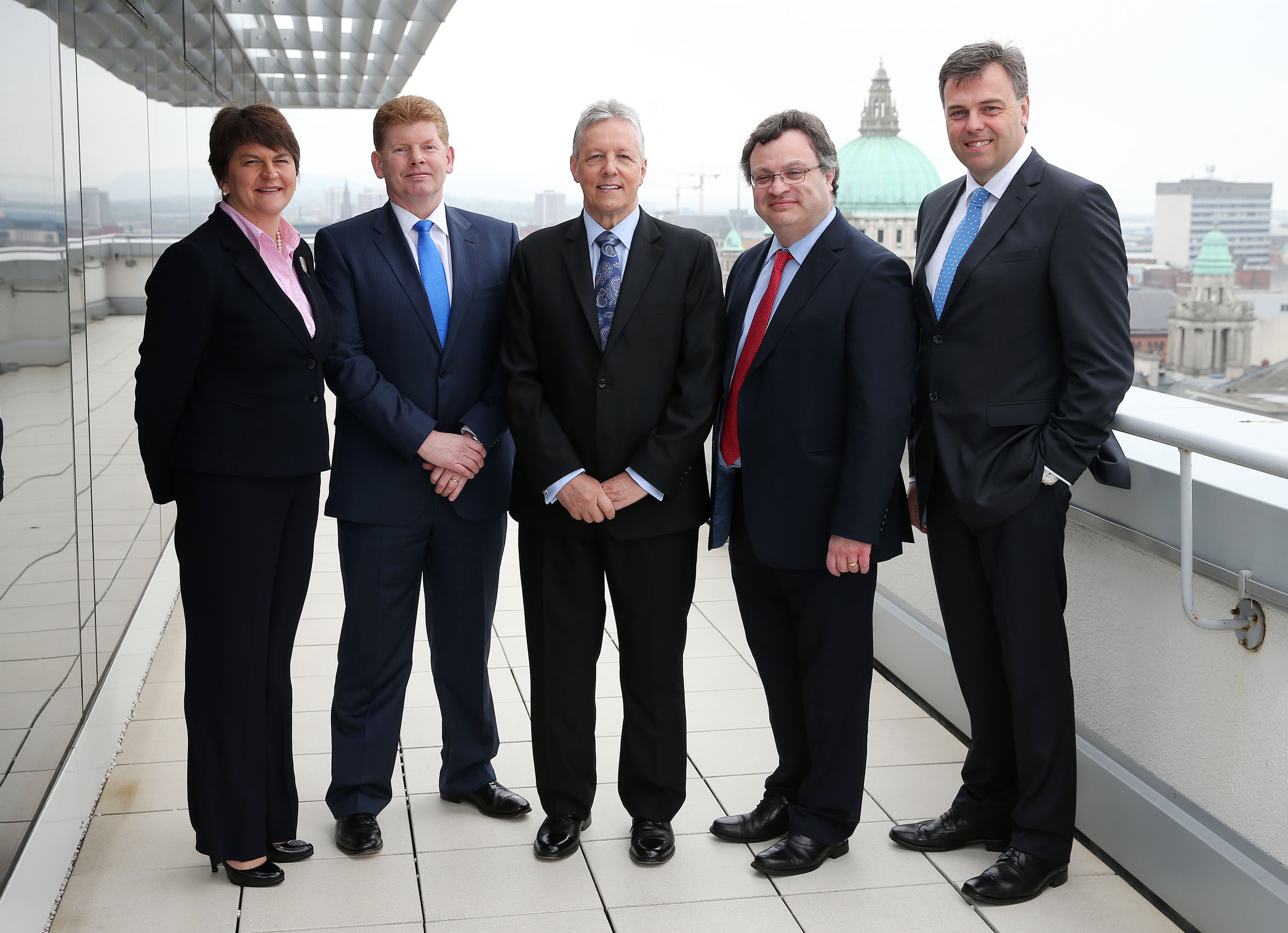 First Minister Rt. Hon. Peter D Robinson MLA, Department of Enterprise, Trade and Investment Minister Arlene Foster and Department of Employment and Learning Minister Dr Stephen Farry, today announced the creation of 486 jobs in a major development of EY's UKI operations in Belfast. This will build on its existing operations through the creation of a new business unit offering advisory and assurance services to clients outside of Northern Ireland.
The announcement made at EY's office in Belfast will see the creation of these new roles phased over four years with an expected economic contribution of £19 million in direct salaries per annum by year four. The economic multiplier will be far greater for the NI economy. EY already employ over 1,450 people across its five offices in the Republic of Ireland and Northern Ireland and this announcement will significantly add to the 145 people already located in its Belfast office.
Mike McKerr, Managing Partner, EY Ireland commented on the announcement: "We are delighted to bring this investment to Belfast which will further enhance our current service offering to clients. As a global company with a presence in more than 150 countries, we continually evaluate the best locations for expansion to ensure maximum productivity and growth. We have been working closely with Invest Northern Ireland for some time on this project and their support and advice has been instrumental in EYs decision to locate this project in Belfast."
The roles will comprise of a mobile and static workforce, providing assurance and advisory services to EY's UKI domestic and international client base. This announcement will help the firm to achieve its twin targets of increasing its market share and delivering a quality, cost-effective service to its customer base.
Announcing the investment, during a visit to EY's offices in Bedford Street, First Minister Rt. Hon. Peter D Robinson MLA said: "The creation of 486 new jobs by EY is extremely positive news for Belfast, as it will deliver an additional £19million in salaries each year and contribute positively to the wider economy.
"Having met with Steve Varley, Chairman and Managing Partner EY UK&I and Mike McKerr, Managing Partner EY Ireland last year, I was able to reaffirm our ongoing support for EY's commitment to Northern Ireland and I am pleased that this project has now come to fruition.

"Alternative global locations were considered by the company so securing these high quality jobs has been a real coup. This announcement sends an unambiguous message to international investors to have confidence in Northern Ireland as a competitive location from which to grow their business."
Northern Ireland presented a compelling proposition in terms of a strong existing skills base and high quality graduate pool, aligned to cost-competitiveness and financial support. Invest NI is offering £3.2 million to support the jobs announcement, which played a crucial role in locating these jobs in Belfast. The Department for Employment and Learning is providing training support.
Welcoming the announcement Enterprise, Trade and Investment Minister Arlene Foster added: "Today's announcement will provide excellent employment opportunities across a range of levels in a wide variety of roles including, advisory and assurance specialists, comprising of a mobile and static workforce. In addition, EY will also be seeking people in human resources, finance and administration within its core business services.
"This investment could have gone to a number of other locations and the decision to choose Belfast is based on the availability of a skilled, loyal and committed workforce and our robust infrastructure which provides reliable, high speed and cost effective connectivity."
Since July 2013, EY has added 180 new people to its headcount across the Republic of Ireland and Northern Ireland. This is a positive achievement and demonstrates that EY's investment programme is paying dividends. "It's equally promising to see that client confidence is returning as the all-island economy shows signs of growth generating more employment opportunities, so vital to recovery," said McKerr.
Commenting on the announcement Employment and Learning Minister Dr Stephen Farry said: "I am pleased to be supporting this substantial job announcement from EY which expands their current workforce by creating 486 new jobs in Belfast.

"In this very competitive market place, this investment is testament to the emphasis that companies now place on locating in areas where they can access a highly skilled labour force to support their business needs. I am committed to supporting and working with our inward investors and local companies to help them meet their business objectives.

"Assured Skills funding from my Department will ensure that the organisation has the support necessary for training initiatives to develop the skills required for these new roles."
Mike McKerr concluded: "This support will help provide quality, world-class employment opportunities to school leavers, graduates and experiences hires. We remain relentlessly focused on providing exceptional client service to all of our clients whether multinational, entrepreneurial or social enterprises up and down the country whose growth we support every day. This investment will play a crucial role in delivering these services."