Henning Bros wins first export business for crab meat in Netherlands
09 November, 2011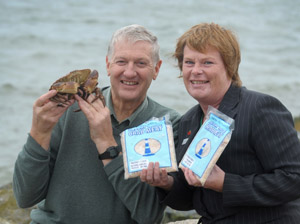 Henning Brothers in Kilkeel has won its first export business in Europe for frozen crab products, with assistance from Invest Northern Ireland.
The shellfish processing company took part in a recent Invest NI trade development programme in the Netherlands. Through the Going Dutch initiative, the company secured business from two wholesalers in Amsterdam for frozen crab meat and crab claws.
The business breakthrough in the Netherlands was announced by Harold Henning, who founded the seafood processing company in 1997 with his two brothers, and welcomed by Dr Vicky Kell, Invest NI Trade Director.
Dr Kell said: "This important development gives the company a platform for growth in a market in which there is demand from high-end hotels and restaurants for quality shellfish.
"Our Going Dutch initiative gave Henning Brothers access to an experienced marketing organisation with a wide range of contacts in foodservice organisations, contacts which the company has followed up successfully. As a result it has now secured worthwhile business in the Netherlands for its premium quality crab products.
"The business is a further example of how our food companies can grow business outside Northern Ireland for products which are locally sourced and feature the provenance and traceability increasingly sought by consumers."
Mr Henning said: "We developed the frozen products as the key element in our strategy to grow our business outside Northern Ireland. We had developed good business for live shellfish, prawns, mussels and oysters, particularly in France and Germany, and saw an opportunity to expand sales through the introduction of frozen crab products using an innovative tub.
"Taking part in the Invest NI programme in the Netherlands enabled us to assess the market potential of the frozen products. We benefited immensely from the knowledge and experience of the team at Northern Ireland Trade Consultants in Amsterdam, Invest NI's export consultants there. NITC has a tremendous network and is respected particularly by the wholesale industry in the Netherlands.
"We were introduced to several major wholesalers supplying key market sectors including foodservice and retail. Subsequent discussions led to orders from two leading wholesalers and, as a result, we now have a solid platform for future growth in this important European market."