Invest NI encourages e-business and selling online
14 March, 2012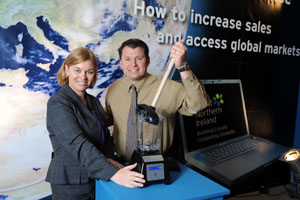 Around 250 local companies attended Invest Northern Ireland's Online Marketing Conference in March 2009 to hear how George Wright of US company Blendtec achieved a 700% increase in blender sales by using the latest online sales and marketing techniques. Pictured with Mr Wright is Tracy Meharg, Invest NI's Managing Director of Innovation and Capability Development.
Information and communication technology (ICT) can offer real benefits to your business, and investments in new technologies often have a direct effect on profitability. As it becomes an increasingly important tool it is vital for businesses to develop an effective strategy which ensures the ICT solutions implemented add value and deliver real benefits.
To assist companies here to invest in technology, Invest Northern Ireland offers a range of advice and support as part of the Boosting Business through Technology campaign. This is split into three distinct elements:
eSolutions Centre: Located in Invest NI HQ, the Centre offers businesses access to practical and independent support on a range of ICT-related issues. Businesses can get hands-on demonstrations of new technologies including advice on e-commerce solutions, online marketing and mobile computing.
Management Information Systems: Businesses that can demonstrate the intention to sell outside Northern Ireland, that are actively pursuing growth plans and will contribute to increasing productivity and innovation in Northern Ireland can also get financial support. The support can part fund the purchase of software, implementation and user training of IT solutions within your business to improve business processes and the visibility of key management information. Examples of typical projects include e-commerce solutions, customer relationship management (CRM) software and electronic stock control.
ICT Workshops: From time to time Invest NI runs workshops that focus on a range of ICT topics.
Over the past number of years Invest NI has also organised large ICT-focused conferences, where local businesses gained access to experts from the online marketing and e-commerce industry. Typically these events have attracted an audience made up of business owners and marketing managers keen to adopt new technologies which can help them increase their online sales.
The previous three events attracted over 750 local businesses with speakers from organisations including Google, Yahoo, Microsoft, eBay, Blendtec "will it Blend" and other local businesses specialising in online marketing.
With the global marketplace becoming much easier to access due to the increased proliferation of the internet throughout the world, almost every market can be exploited by Northern Ireland businesses. In 2011 the total value of online sales in the UK alone was estimated at £68.2 billion. This is expected to double by 2020.
To ensure global success, businesses in Northern Ireland need to plan their online trading strategies to ensure they are best placed to serve global markets. This means keeping ahead of the competition when it comes to being aware of the full range of internet technologies and services available to help successfully deliver their strategy, encourage growth and increase export sales.
This year's e-business conference to be held on 22 March in the Ramada Hotel, Shaw's Bridge will focus on showcasing future trends and innovations in the online market place to help local businesses prepare future marketing plans.
Topics to be covered on the day will include how to develop an online marketing strategy which will engage customers and drive them to your online shop. This may be by effectively utilising social media channels, or ensuring your website is fully optimised and relevant to customers. There will also be an opportunity to find out how Pay per click (PPC) and other online advertising can deliver sales.
You will also hear about the various e-commerce options available and how to take payments online securely without compromising your business or customers.
This article appeared in Business First, March 2012 edition.