Invest NI helps Rovipak wrap up R&D project
19 March, 2013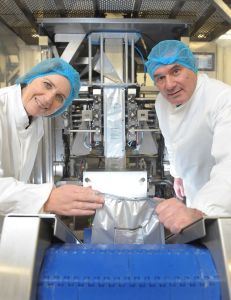 A small Portadown-based company has developed a revolutionary new packing/weighing machine for the food industry, with research and development support from Invest Northern Ireland.
Rovipak specialises in the design and supply of packaging material, such as plastic trays and lidding film, to poultry and meat processors.
The new packing/weighing system is called Quattrapack and represents an investment of over £200,000 by Rovipak. Invest NI has offered support of over £80,000, part funded by the European Regional Development Fund.
Trevor Potter, owner and manager of Rovipak, said: "The new machine enables whole birds to be automatically weighed prior to being packaged and successfully print the catch or individual random weight details onto pre printed film, all in one operation with no human intervention. That results in a much more streamlined process.
"Without Invest NI's assistance the project would have taken significantly longer to complete, and we might have lost this valuable market opportunity."
Rovipak currently services markets in the UK, Republic of Ireland and Europe. It is anticipated that the Quattrapack machine will create an opportunity to further grow the business and extend its sales reach.
In addition, the company is also developing new packaging material for use on the machine which will allow the bird to go straight into the oven without removing it from the film. Work on this is still ongoing.
Carol Keery, Invest NI's Director of Research and Development, said: "While initially concentrating on the poultry sector, the Quattrapack machine will have a broad appeal across all meat processing segments which represents a huge opportunity for this small business.
"Reducing packaging waste and maximising operating efficiencies are key priorities for this sector as is ensuring accurate weight data at the packaging stage. This machine ticks all those boxes and shows Trevor's keen understanding of his target market."
The Quattrapack is currently being trialled at Moy Park's Dungannon site. Moy Park is one of Europe's leading food companies, specialising in fresh, high quality, locally farmed poultry and complementary convenience food products.