Major US deal for Grace's traditional Irish biscuits
20 November, 2012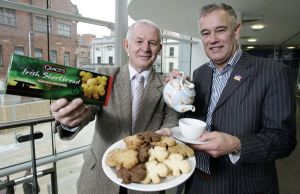 Grace's Irish Biscuits in Bangor has won its biggest export deal for traditional handcrafted biscuits.
The award winning company, which has received marketing and other assistance from Invest Northern Ireland to develop its exports, has won a contract to supply its shamrock-shaped oatmeal and shortbread biscuits to leading US discount retailer Cost Plus World Market in San Francisco for sale through its nationwide chain of 260 stores.
The US deal was announced by William Bullock, founder and managing director of Grace's Irish Biscuits, and welcomed by Maynard Mawhinney, Invest NI Director of Food. The contract followed an approach to Cost Plus by Mr Bullock and a sample order was agreed last year. A new and much larger order has now been placed by the US discounter.
Commenting on the new order, Mr Bullock said: "This gives us a significant presence with Cost Plus World Markets in its stores from California to Virginia and is our biggest business to date in a market that we've targeted for faster growth.
"The contract also represents an important development for us beyond ethic Irish regions in New York and Boston into mainstream America.
"Exports of our traditional and distinctive shamrock shaped biscuits are growing steadily in the US, Europe and further afield and we are well on the way to becoming a leader in quality Irish oatmeal and shortbread biscuits.
"Our oatmeal variety has won a UK Great Taste Award and has also been acclaimed in the Northern Ireland Food and Drink Awards.
"These awards are an important endorsement of our commitment to deliver truly unique, high quality, Irish products, using the best of locally sourced ingredients and trusted producers," he adds.
Mr Mawhinney said: "This is an extremely encouraging contract for this export-led company in the huge US marketplace. We've been working closely with the company to assist its marketing activities and to develop opportunities in Britain and overseas. The US is an immensely important marketplace which offers significant opportunities for innovative and quality food and drink from Northern Ireland.
"The success of Grace's shows what can be achieved from a determination to do business there."
The company is also supplying biscuits to the forthcoming Ireland Fund Winter Ball in the Savoy Hotel, an event which will feature leading Irish writer Seamus Heaney and Sir Bob Geldof.
Grace's Irish Biscuits also recently secured export business in Germany and the Netherlands..