Complaint Procedure
Invest NI is committed to providing a high quality service to all our customers.
However there may be occasions when problems arise and you do not receive the service you expect. We want to know when an issue has arisen so that we can put it right and learn from your experience.
What is a complaint?
A complaint could be about any aspect of our services.
For instance:
When we do not deliver a service on time
When we give you the wrong information
When you receive a poor quality service
When you have a problem with the service provided by a member of staff
What is not a complaint?
There are issues which will not be dealt with under our complaints procedure.
These include:
Appeals of business decisions
Appeals to a tribunal
An information request
A request for service
Such requests will be dealt with as normal business issues and you should contact the relevant department.
How to make a complaint?
We are keen to ensure that all complaints about our services are dealt with in a satisfactory way and are resolved as quickly as possible.
Often an issue can be resolved easily by contacting the person with whom you have been dealing with. You can do this in person, by telephone, email or letter.
Alternatively, if you would rather not deal with the member of staff responsible or are not sure who is responsible for the service you wish to complain about you can raise a formal complaint with the Invest NI Complaints Manager.
You can do this in three ways:
Submit your complaint in writing, including your full name and address, as much as you can about the complaint and what has gone wrong, to Invest NI Complaints Manager, Bedford Square, Bedford Street, Belfast, BT2 7ES.
Read full details on Invest NI's complaints procedure. (PDF) This includes details on what happens next when we receive your complaint and what to do if you are not satisfied with the response you receive.
All complaints are dealt with professionally and in confidence where required. All feedback is welcomed and will not affect future Invest NI support decisions or relationships.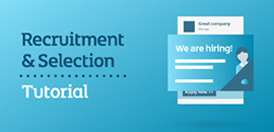 Recruitment and Selection Tutorial
Recruit and select more effectively