Protect your intellectual property
Alexander Graham Bell wasn't the first person to invent the telephone but he was the first to patent it.
Protecting your intellectual property is crucial if your business is developing a new product, service, brand or process.
Our specialist advisors can help with international patents and patent searches, trademarks and trademark searches and designs and copyright. From time to time, we also run seminars and events in partnership with the UK Intellectual Property Office, The British Library and the European Patent Office.
Eligible businesses can get financial assistance to carry out an Intellectual Asset Management Audit and to protect patents, trademarks, design registration and licensing agreements.
To find out more contact our business support team
Video |

Introduction to Intellectual Property
---
Not sure that this support is right for you? Contact us and we can explore options for your business together.
Our support may be subject to some eligibility criteria.
---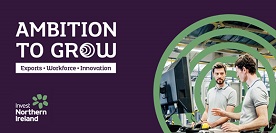 Ambition to Grow
Receive up to £45,000 in funding and Invest NI support.
nibusinessinfo.co.uk guides