Leadership and Capability Development
Develop your strategic leadership capability in order to take your business to new heights! 
Invest NI's Leadership and Capability solutions provide Northern Ireland businesses with the opportunity to develop leadership skills and improve the business for future growth. 
Through our various programmes we offer a combination of learning, challenge and support to help:
Improve and develop your leadership capability in order to lead more effectively
Develop a more ambitious strategic plan for business growth
Create a more strategic and cohesive top team
Develop the capability of your people and operations
Grow your business through innovation, investment, talent development, operational efficiency and exploration of new markets
How can Invest NI support my business? 
Invest NI can help support and grow your company through various programmes. These will help you become a more effective Leader or create a more strategic and cohesive Leadership Team.
Support Available
---
Leader Programme
The Invest NI Leader Programme is designed to enable entrepreneurial business owners / CEO's and MD's to effectively grow their business through the development of strategic leadership capabilities. The Leader Programme offers business leaders the opportunity to critically assess their business's performance, set a more ambitious strategic direction, learn from like-minded business peers, overcome challenges and build organisational capability to compete globally. 
---
Leadership Team Programme
The leadership team programme supports the top team to develop business strategy, build cohesion and equip the team with the tools to enable ambitious growth. The programme is provided in partnership between Invest NI, Dublin City University Business School and Wilson Sloan Consulting.
---
Leading within a Group Programme
The Invest NI Leading within a Group Programme is open to CEO's and site leads of companies located in Northern Ireland with a parent company based elsewhere. The programme recognises the specific complexities and issues faced by leaders operating within a wider Group/global structure.
Find out more about the Invest NI Leading within a Group Programme
---
Non-Executive Director Scheme
The Non-Executive Director (NED) Scheme is designed to help Invest NI SME customers strengthen their leadership capability and improve corporate governance, strategy development and competitiveness through the appointment of an experienced Non-Executive Director to the company board.
Find out more about the Invest NI Non-Executive Director scheme
---
Leadership Events
Invest NI provides ongoing opportunities for business leaders to remain connected while continuously developing both their businesses and their leadership skills. A range of events for the alumni of our leadership programmes are organised annually.
Invest NI also hosts best practice events that bring together international and local business speakers to talk about their experience and provide access to a range of assessment tools.
Read our feature: Ben Bryant wows local business leaders at Leadership Masterclass
---
Not sure that this support is right for you? Contact us and we can explore options for your business together.
Our support may be subject to some eligibility criteria.
---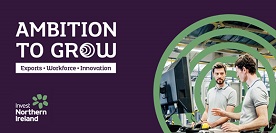 Ambition to Grow
Receive up to £45,000 in funding and Invest NI support.
nibusinessinfo.co.uk guides