Vision and values
Our vision and values set standards for how we work.
They outline what we aim to achieve and how we will act in all our dealings with customers and stakeholders.
Our vision
We will champion the growth of innovation and exports to build a local economy that competes globally. We will be a world leading business development agency.
Our values
Customer focus: We are highly responsive and proactive, creating value adding relationships. We will deliver on the identified needs of our customers.
Respect: We show mutual regard for all others, value diversity and are committed to the organisation.
Integrity: We take responsibility for all our actions, in particular the management of risk, and are vigilant in managing public money. We are honest and fair with each other and our customers (stakeholders).
One team: We are one team working to achieve shared goals.
Passion: We believe in and are enthusiastic about what we do. We have a desire to succeed, to continually innovate and look for ways to do things better.
Professional: We are clear, concise and straightforward. We continually develop and apply our skills and knowledge to provide a high quality service.
Performance: We strive to achieve our goals in line with Invest NI's strategy, policy and procedures.
---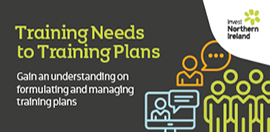 Training Needs to Training Plan
Get advice on formulating and managing training plans