Industrial Strategy Challenge Fund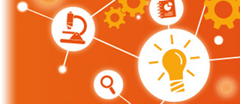 The Industrial Strategy Challenge Fund (ISCF) aims to bring together business and the UK's world leading research to develop commercial solutions that will overcome the major industrial and societal challenges of our time.
It is part of the UK government's £4.7 billion increase in research and development over the next 4 years and was designed to ensure that research and innovation takes centre stage in the Government's Industrial Strategy.
The challenges
Working together the Government, businesses and academics have identified the biggest core industrial challenges where the UK has a world-leading research base and there is a large or fast growing and sustainable global market. These challenges have been aligned to the four 'Grand Challenges' set out in the Industrial Strategy White Paper.
The grand challenges are:
Artificial Intelligence (AI) and the data economy
Clean growth
The future of mobility
Meeting the needs of an ageing society
Challenge areas
To date, £1.725 billion has been allocated across two waves of challenges in the areas listed below.
Wave 1 challenges launched in April 2017 are:
Leading-edge healthcare
Robots for a safer world
Faraday battery challenge: clean and flexible energy
Driverless vehicles
Manufacturing and materials of the future
Satellites and space technology
Wave 2 challenges launched in April 2018 are:
From data to early diagnosis and precision medicine
Healthy ageing
Prospering from the energy revolution
Transforming construction
Transforming food production
Next generation services
Audiences of the future
Quantum technology
The challenges are aligned with the Industrial Strategy's 4 grand challenges. View all the challenge areas
Innovate UK's blog will keep you up to date on what is happening with ISCF. Innovate UK are committed to work with Invest NI to ensure companies in Northern Ireland have the best chance to access ISCF funding.
Invest NI can help:
Identify the most appropriate ISCF funding call for your business
Provide financial support for preparing an application
Advise on funding rules, regulations and eligibility criteria
Assist businesses to find the right partners through eg the Enterprise Europe Network (EEN) and the Knowledge Transfer Network (KTN)
Signpost businesses to further specialist events and advice
---
Not sure that this support is right for you? Contact us and we can explore options for your business together.
Our support may be subject to some eligibility criteria.