Track record
Northern Ireland has an impressive track record in attracting foreign direct investment.
The region has experienced an influx of new investors in recent years, particularly in the technology, financial services and legal sectors, joining companies that have enjoyed long-term success in the region.
Accolades
Belfast is the world's top destination city for fintech development investments with companies such as Chicago Mercantile Exchange, Visa and TPicap choosing to invest
Northern Ireland is the world's leading destination for US FDI cybersecurity development projects with investors including Rapid7, WhiteHat Security, Black Duck by Synopsys, Anomali and Proofpoint all having operations here
Belfast is Europe's leading location for new software development projects with investors such as Allstate, CyberSource (a Visa Company), Fujitsu and TSYS developing their software here
Other international investors include Baker McKenzie, Allen & Overy LLP, Seagate Technology, Bombardier Aerospace, Citi and the Allstate Corporation.
Over 70% of new investors reinvest - testament the region's appeal. This continued success has led to almost 1100 international companies locating in the region and employing around 100,000 people.
Video | Watch our TV advert - Want more from an investment location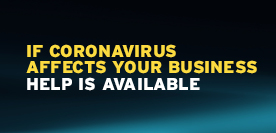 Coronavirus business support
Find out more on nibusinessinfo.co.uk/coronavirus