Could your waste be another business' treasure?
Northern Ireland's resilient business base are taking action to save money, boost profits and make environmental improvements to their operations.
These development and investment decisions are being made against a landscape of uncertainty, not least the questions and potential changes arising from the UK's pending departure from Europe.
Achieve savings
Implementing efficient resource management practices using Invest Northern Ireland's Industrial Symbiosis (IS) Service has saved previous participants substantial sums in operating costs.
This free service is open to businesses of all sizes. It encourages the physical exchange of wasted resources, such as materials, water, energy, process by-products and redundant equipment.
Enabling one firm's waste to be used to the benefit of another business creates a development opportunity and added value for those involved.
The key outcome is increased resource efficiency but the process also generates environmental benefits through reductions in waste by preventing materials going into landfill.
Tried and tested results
International Synergies NI Ltd, a global leader in applied Industrial Symbiosis, deliver the service.
Since 2007, 450 organisations from business, social enterprises and community initiatives have benefited from the service to achieve economic benefit of over £40million*.
This is broken down into the following deliverables reported by the organisations involved:
Actual cost savings of over £25 million
£16.2 million in additional sales
Created and saved 96 jobs
Diverted 392k tonnes from landfill
Reduced CO2 emissions by 340k tonnes
* Source: International Synergies
We need to develop infrastructures that can deal with our wasted resources and generate income and economic value within Northern Ireland. Since 2007, the Industrial Symbiosis Service has developed innovative and creative solutions for wasted resources from businesses across the country. We want to build on this success and provide a service that adds value to companies and our local economy.
- Elaine Kerr, Deputy Director of International Synergies NI
The Industrial Symbiosis Process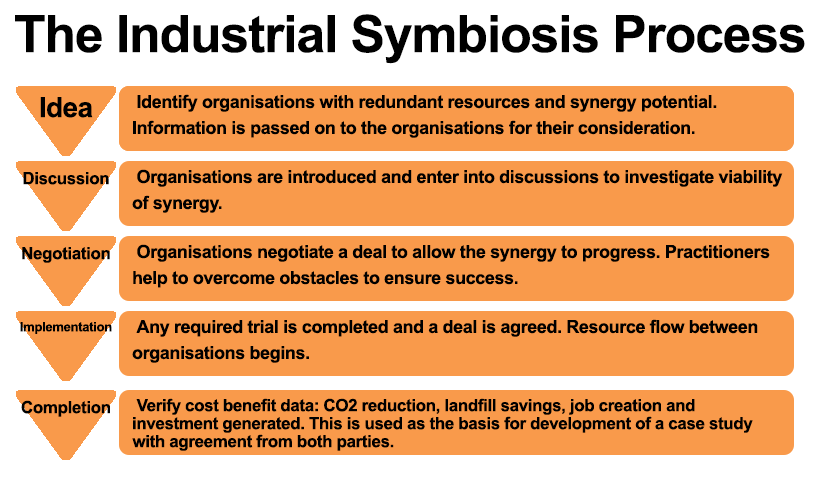 Watch this video to learn more about how resource matching takes place.
Benefits of Invest NI's Industrial Symbiosis Service:
Harness free technical, regulatory and industry knowledge
Achieve on-going cost savings leading to increased profits
Reduce waste disposal costs
Increase productivity and reduce operating costs
Generate economic and environmental benefits within financial constraints and regulation
Build synergy relationships with solution providers from other industry sectors
Access additional funding available from Invest NI
Utilise skills, unrealised resources, imagination and creativity for new product development
Trial new technologies and innovative working practices
Impact organisational culture with best practice for business and the environment
Businesses can make significant cost savings and generate additional sales by using the Industrial Symbiosis service. It helps businesses source raw materials locally through its resource matching service leading to financial savings and benefits to the environment.
- Niall Casey, Director, Skills and Competitiveness, Invest NI
How is the Service delivered?
Organise an advisory visit where our team of experienced practitioners will identify and provide unbiased recommendations to get the best savings and resource solutions available.
To achieve the best results in exchanging wasted resources it is good idea is to engage the service early in the process.
Regular events called resource matching workshops are held throughout the year which provide opportunities for companies to share information on the waste they have or the resources they could use.
A recent event at Hyster-Yale Group in Craigavon attracted 23 companies eager to engage in a highly-productive workshop. Hyster-Yale shared their experience and the benefits of the IS service for them and described how they have applied Industrial Symbiosis as an integral element of their business model.
Interesting mix of resources being discussed today #resourcematching productive workshop in progress @InvestNI pic.twitter.com/ks4qLKBAAK

— Int_SynergiesNI (@Int_SynergiesNI) November 21, 2017
The enthusiasm in the room reflected the commitment of the delegates to find sustainable solutions for wasted resources during the resource matching session. In total, 125 potential matches were identified, and these opportunities have the potential to reduce business costs by £508k.
Success stories
Lisburn-based ATG Group, a specialist in environmental and waste management sector, has completed 14 resource matches over 10 years and these have achieved an economic benefit of over £4.9m and secured 32 jobs. Over 76,000 tonnes of wasted resources have been diverted from landfill, and 3,210t of greenhouse gas emissions have been saved.
In the video below The Jungle NI in Moneymore and Haffey Sports Grounds also explain how they benefited from the service.
If you have any wasted resources that you would like to find solutions for or are interested in attending the next resource matching workshop on 20 February 2018 please complete an enquiry on the Industrial Symbiosis page.