The Farnborough Airshow Experience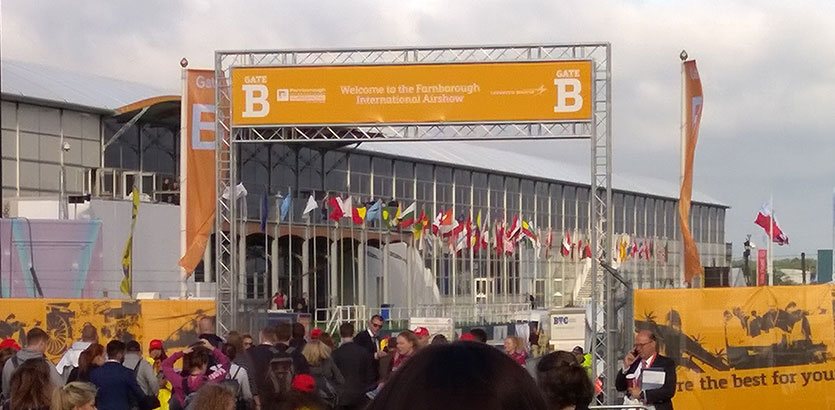 A small town in Hampshire transforms for one week every other year into an aerospace mecca to host Farnborough International Air Show.
A steady stream of 1,500 exhibitors descend early each morning to this iconic location for aerospace - most making the journey from central London on the train then shuttled on buses to the show grounds. See who attended Farnborough with Invest NI.
The world's biggest and most diverse airshow is a seriously impressive sight! There are pavilions as far as the eye can see, an active runway showcasing the latest aircraft and a continuous hum of activity throughout the halls and chalets as businesses from every nation make the most of this international stage to secure new sales.

Farnborough International Airshow airfield 1
Northern Ireland has its biggest ever representation exhibiting this year and we are playing our part in making #FIA16 the most successful show to date! 10 of the 17 companies exhibiting on the Northern Ireland stand are attending for the first time.
Northern Ireland Aerospace stands proud among the leading players in world aviation #FIA16 https://t.co/jcOLJqISpK pic.twitter.com/UFvl6UYGUz

— Invest NI (@InvestNI) 12 July 2016
During opening day, Economy Minister Simon Hamilton and Secretary of State Theresa Villiers supported the efforts to sell local engineering to the biggest names in aerospace.

Economy Minister Simon Hamilton speaking with a representative from Cunningham Covers

Economy Minister Simon Hamilton speaking with representatives from Hutchinson AeroTech
UTV's Vicki Hawthorne captured the sights, sounds and significance of the trade show for Northern Ireland aerospace industry.
At #FIA16 where 17 NI companies are exhibiting to world aerospace industry. @UTVNews pic.twitter.com/xRykH6vwKt

— Vicki Hawthorne (@Vicki_Hawthorne) 11 July 2016
Joining the news feed at Farnborough was the launch of a new force in the world of #AerospaceNI. Causeway Aero is bringing the combined skills, capabilities and experience of a number of Northern Ireland Aerospace businesses together under one brand to pursue larger and more complex work packages in the global aerospace industry. BASE, Denroy Plastics, Moyola Precision Engineering, Dontaur Precision Engineering and Hutchinson Aerotech are the five businesses collaborating to offer a full design and manufacturing solution for international aerospace companies.
Causeway Aero Collaborative Network

The Causeway representatives briefed their assembled audience at the Northern Ireland stand in torch light as torrential rain disrupted power and brought the show's opening day to an unexpected early finish.

Causeway Aero Collaborative Network briefing attendees at the Northern Ireland stand
SC21 business excellence programme award achievers
Northern Ireland is among the top regions recognised by ADS' business excellence programme SC21 with following businesses achieving accreditations:
Bronze Award achievers
Silver Awards achievers
Silver Award Recertification
Northern Ireland stand at Farnborough International Airshow
Representatives from the 17 companies engaged proactively with passing enquirers, appointments and meet the buyer sessions to secure new trade deals.

Northern Ireland stand at the Farnborough International Airshow

Northern Ireland delegates meeting with buyers at the Farnborough International Airshow
While at the Northern Ireland stand, for two hours each afternoon local businesses joined their new and potential customers in sampling local produce during a networking reception which nods to the 2016 Year of Food & Drink.

A selection of Northern Ireland Year of Food and Drink refreshment available at the Northern Ireland stand

Delegates taking a break on the Northern Ireland stand at the Farnborough International Airshow
Flying displays
Afternoon's at Farnborough Airshow feature dramatic flying displays by the latest commercial and defence aircraft.
Guy next to me: "That blew me out of the water": F-35B jet floats in air at Farnborough airshow #FIA16 #avgeek pic.twitter.com/reOi8SHmT2

— CNN Travel (@CNNTravel) 12 July 2016
Bombardier's C Series aircraft
Bombardier celebrates the inaugural commercial flight of a C Series aircraft, from Zürich to Paris with Swiss International Air Lines and invited Northern Ireland suppliers to visit and tour the CS100 aircraft.

Northern Ireland suppliers visiting the Bombardier CS100 aircraft at the Farnborough International Airshow
As one of the oldest aerospace regions in the world, Farnborough is a world class event which allows us to promote a strong message about Northern Ireland's established capabilities in this sector and build on the success that has already been achieved.
View our highlights of #FIA16