Graduate to Export | Launch of inaugural International Marketing Executive programme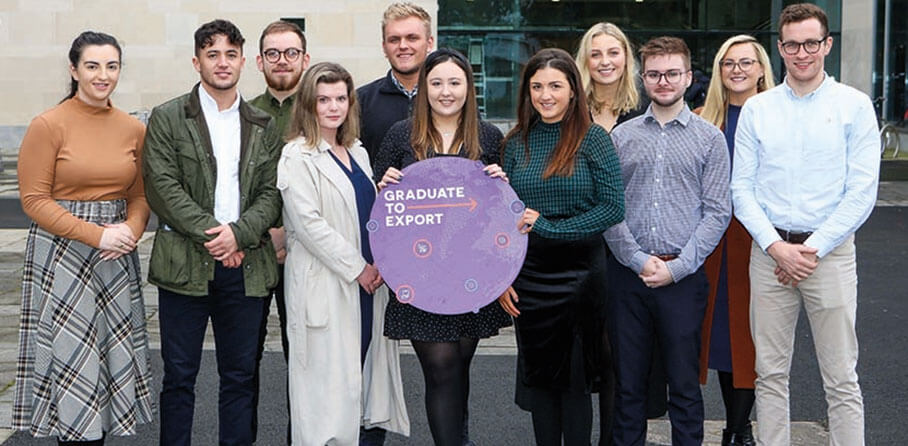 After a competitive selection process, 10 local businesses have been chosen to participate on Invest Northern Ireland's Graduate to Export programme commencing in October 2019.
The 18 month programme was officially launched at Ulster University's Belfast campus on Monday 14 October. The programme allows Northern Ireland companies to enhance their export capability with a graduate assisting them with a market research project.
Having been successfully recruited, the graduates will spend the first six months of the programme at their host businesses, learning about the company's products and services, while also gaining an insight into the strategic direction of the business. The graduates will then relocate overseas for 12 months to undertake the market research project on behalf of the Northern Ireland company.
The programme provides graduates the opportunity to work alongside innovative Northern Ireland companies such as Camlin Photonics, Porter Bathrooms and Ulster Carpets to name a few, while also undertaking a Post Graduate Diploma in International Marketing, delivered by Ulster University and the Institute of Export. This programme will provide them with the valuable skills and learnings that are needed in the world of international business.
As well as fully funding the Diploma in International Marketing, Invest NI also assists the company by contributing up to 50% towards the cost of the graduate's salary (up to a maximum of £18,000) for the duration of the 18 month programme.
Throughout the programme, Invest NI will follow the graduates of Greenfields Ireland, The Deluxe Group and Invest NI as they embark on their journey and experiences as part of the Graduate to Export programme.