Historic return of the Open Championship puts Northern Ireland on the podium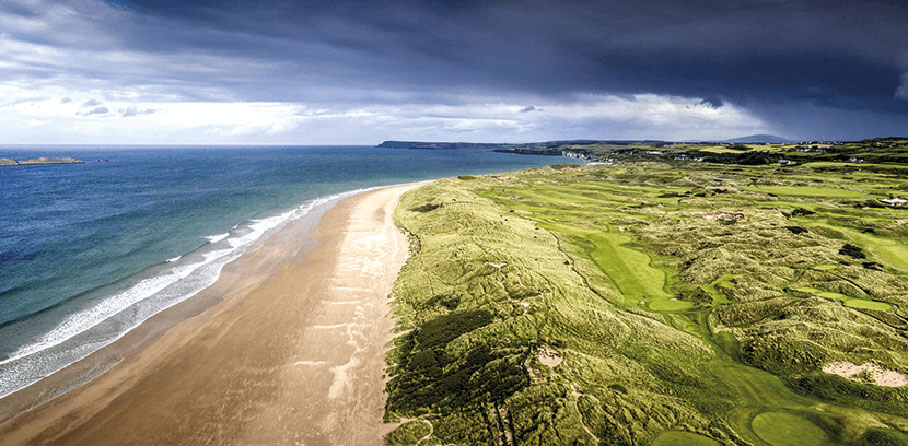 After the success of hosting the biggest sporting event Northern Ireland has ever seen, we're launching a new blog series that will explore our links to sport – both on and off the field – and how our heritage for innovation is shaping this industry, and others, the world over.
Around a quarter of a million people flocked to Portrush, a town of just 7,000 inhabitants, to witness the first Open Championship to be held in Northern Ireland since 1951 and watch Irishman Shane Lowry triumphantly lift the Claret Jug.
Northern Ireland and Sport
Sport has always been an integral part of the cultural fabric of Northern Ireland, but golf in particular has played an especially important role, having produced some of the country's best loved sporting heroes including Rory McIlroy, Darren Clarke and Graeme McDowell. Together they have maintained Northern Ireland's presence at the pinnacle of the sport for the last two decades. However, it's not just on the course that golf has produced some big winners for Northern Ireland.
One great example from Northern Ireland's booming tech sector is the world's foremost tee-time booking service, BRS Golf. Founded by brothers Rory and Brian Smith, the Belfast-based company, now owned by global giant NBC Sports, has tapped into Northern Ireland's talent pool to drive them forward. Today, it is responsible for tens of millions of golf bookings at thousands of courses worldwide.
Those who know Northern Ireland will not be surprised by the rapid success and ingenuity of these golf-enthused entrepreneurs, nor the readiness of foreign companies to invest in our homegrown businesses. The Financial Times' fDi Magazine, for example, recently named Belfast in the top 10 Digital Economies of the Future, making it the only UK city outside of London to be featured on the list.
Technology Hub
Northern Ireland has undoubtedly become a hub for international investment, especially amongst global technology players.
PwC, CME Group and Rakuten are just a few of the big names that have set up shop in Northern Ireland in recent years with the aim of tapping into our quality tech talent pool and supportive business environment.
Other recent examples include Silicon Valley cyber security leader Imperva, which has chosen Northern Ireland for its new technology hub, and Futrli, whose SaaS products support over 1,200 accountancy firms and 45,000 small businesses globally. Just last month it announced plans to invest almost £5.5m in establishing a new Belfast delivery centre.
Returning to our sporting theme, homegrown businesses, such as Newry-based STATSports is a leading provider of GPS technology for sports that recently announced plans to create over 200 jobs over the next three years. It counts elite teams around the world across a variety of sports as its clients. Football teams utilising the technology include Manchester United, Liverpool, Arsenal, Brazil's national team and the world-beating US Women's national soccer team.
Other indigenous businesses serving the sports industry are making their mark overseas. Creagh Concrete, pioneers of pre-cast for more than four decades, recently completed a multi-million pound contract at one of the world's most iconic sports venues, Wimbledon. And, earlier this year, Aston Martin Red Bull Racing named KX, a division of Newry-based First Derivatives, as its innovation partner, following the success of its existing relationship with the leading F1 team.
From these examples, it's clear that sport plays a major role in supporting growth and bringing business to Northern Ireland's shores. It also attracts visitors, which is great news for our pubs, restaurants, hotels, shops and visitor attractions.
Tourism Boost
Golf, for instance, contributes over £40 million to the Northern Irish economy every year through tourism, and this year we can expect an additional £33.4m thanks to the Open Championship's stint at Portrush. Almost half of this will have been spent in the Causeway coast and glens area according to figures released by the Royal and Ancient Golf Club.
The afterglow from the global exposure is also expected to be long lived, with Kantar Media predicting the value of this global exposure to exceed £50m. You cannot deny that the natural beauty and quality lifestyle on offer played a strong supporting role in the event coverage.
For those who have never visited or done business in Northern Ireland, we hope this has piqued your interest! We are certainly proud of what we have to offer. In fact, Northern Ireland was recently voted the happiest place to live in the UK thanks to the quality of life, idyllic environment, lower living costs and advanced infrastructure on its doorstep. In our view, there's little wonder that businesses and professionals are choosing to make Northern Ireland their home!
The Open Championship has given us an unprecedented opportunity to show the world what our country has to offer - from our natural landscapes, quality cuisine and welcoming hospitality to our modern, innovative cities, entrepreneurial talent and hunger for success.
This has been an unforgettable few days for Northern Ireland and we look forward to welcoming future Open Championships and other major sporting events to our shores – they can certainly be assured of a warm Irish welcome.