Invest NI Community Plans
Under local government reform, the 11 councils across Northern Ireland have greater responsibility for economic development.
As part of this process, each council has developed a Community Plan which sets out the long term vision for social, economic and environmental development of the area. This includes the unique selling points for the area to help attract business investment and growth.
A wide range of partners, including representatives from the statutory, business, higher education, community and voluntary sectors, are working with each council to develop their Community Plans. Invest NI is one of these partners.
As well as attending regular meetings and providing feedback on the draft plans we have also provided key information and data on job creation, entrepreneurship and regional competitiveness in each council area. We are aware that Invest NI has a lot of information and knowledge that is helpful to others in understanding the local economy and what is happening in different areas. To help councils and others understand what is happening in their area we have developed Regional Briefings , which cover council areas and our regional offices. These briefings contain a wealth of information, not only on our work in the area, but also official statistics from other sources on things like population, labour market, business base and productivity . This information is included in our Regional Briefing documents available on our Regional Office pages or by council, by clicking on the region you are interested in below.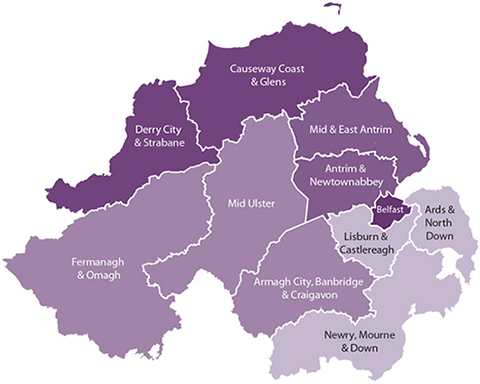 You can also find out more about the council community plans by clicking on the links below: