Juicy way to grow an innovative business
Our Innovation Voucher scheme was introduced to encourage local companies to work with Knowledge Providers on innovation projects.
About the Innovation Voucher scheme
The scheme is open to small and medium sized businesses with an innovative project that would benefit from input from a University, College or other publicly funded research organisation. This could involve a new product, process or technique to help them grow sales abroad.
Underpinning the scheme is our commitment to help companies, both small and medium, grow by embracing innovation that helps to set them apart in markets especially outside Northern Ireland.
The vouchers are a starting point for smaller companies in particular on a journey that leads to other and more extensive growth programmes such as our Grant for Research and Development.
Funding, skills and knowledge
We recognised that many smaller companies lack the skills and expertise especially to turn ideas into commercial products for export.
We tackled this by means of the Innovation Voucher scheme.
This enables companies to tap into the knowledge, experience, technical expertise and facilities in our universities and further education colleges to grow business abroad.
It's a very straight forward and uncomplicated process. Paperwork is kept to a minimum.
A project agreed with us and the university/college in advance receives £5,000 to cover the costs of expertise the company requires.
There are four open calls for innovation voucher applications per year and successful applicants receive a £5,000 voucher to cover the costs of expertise from a University or College.
Benefiting from an Innovation Voucher
A good example of the benefits of the scheme is Skinny Malinky's Juices and Superfoods in Belfast, a small business formed by Paula Heaney, earlier in the year, to develop cold-pressed juices.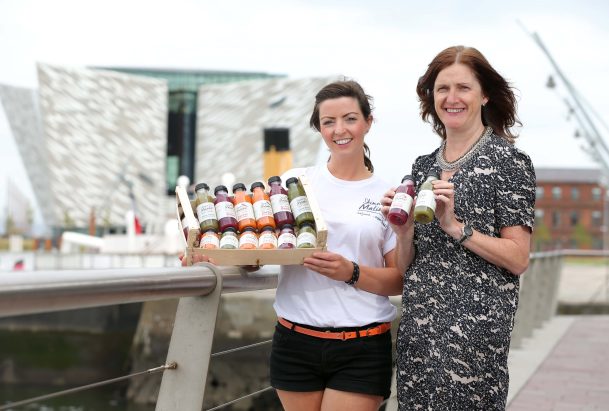 Image by Press Eye Photography.
Skinny Malinky's Paula Heaney showing me (Olive Hill) her latest range of products.
Paula wanted to tap into the developing market for healthier juices especially among those seeking an easier way to take essential nutrients from the cold-pressing technique.
She turned to us for help to extend the shelf-life of her juices and thereby increase her ability to compete in a fast moving and demanding market.
Paula also needed advice on the essential nutritional information required for her labels.
Smaller companies selling fresh foods often find it difficult to balance the costs of just having the right amount of products available for sale to avoid waste.
She used the voucher to access the knowledge and expertise from the College of Agriculture, Food and Rural Enterprise at Loughry, Cookstown on shelf-life and nutritional information.
It also enabled Paula to team up with scientists at the Agri-Food and Biosciences Institute in Belfast to use High Pressure Processing (HPP) to preserve food, extend shelf-life and grow sales especially by means of her e-commerce website.
As a result of the Innovation Voucher scheme, Paula is expanding sales of her range of cold-pressed juices, smoothies and soups...and creating further products.