New Digital Selling grant to help retailers and wholesalers generate business online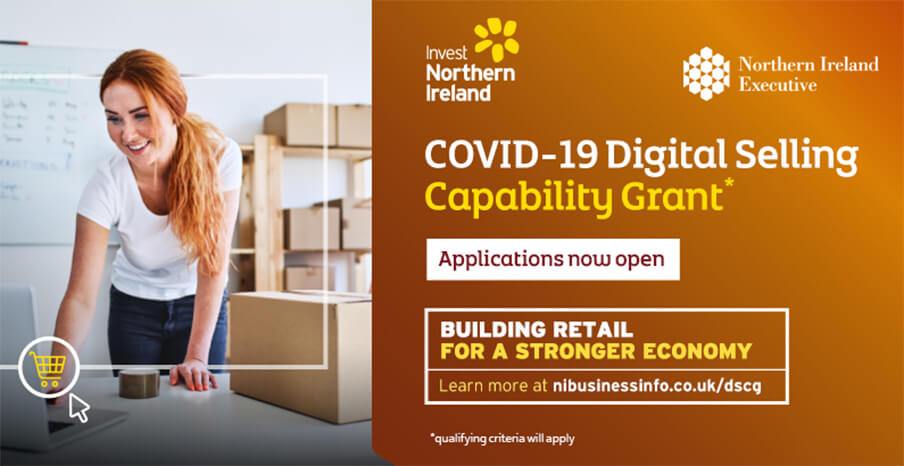 Open for applications from today (9 September 2020) the new COVID-19 Digital Selling Capability Grant is specifically aimed at helping retail and wholesale businesses grow online sales.
It is one of a number of new initiatives we are developing to help companies respond to new business environment in the wake of COVID-19.
A maximum grant of £20,000 is available to eligible small and medium-sized retailers to support 50 per cent of eligible costs. Projects must have a minimum eligible expenditure of £10,000. Click here for full details.
A maximum grant of £20,000* is available to eligible small and medium-sized retailers. Retailers and wholesalers will be able to use this new grant to access consultancy services or expertise from a digital marketing or e-commerce supplier. It is designed to support retailers to research, develop and implement digital marketing and e-commerce improvements to specifically drive online sales.
Doing business online is one of the ways retailers can adapt to the current limitations of social distancing and the rise in consumers choosing to shop online. As the graph below shows, online shopping was already on the increase even before COVID. Previously accounting for just over 20% of all retail sales, since COVID this has escalated at a quicker rate and spiked highest when the restrictions were most strict. The trend is more businesses and consumers are buying online rather than in store and its important our retailers are well placed to fulfil this trend.
An online strategy will ensure retailers can continue to sell to their customers while also opening up opportunities to reach new markets and new customers.
We are confident that it is this sort of practical support that will help retailers to develop new ways of doing business and support them remain viable and competitive for the longer term.
The first call for applications is open until 6.00pm on Wednesday 7 October. Applications will be evaluated against as set of assessment criteria. Full details are available in the Guidance Notes published on nibusinessinfo.com