Northern Ireland showcases legal excellence to a global audience
Northern Ireland has a vibrant Legal Services sector, now employing almost 7000 people.
The scale and pace of growth in recent years has been as a result of attracting major global firms including Herbert Smith Freehills, Allen & Overy, Baker McKenzie and Axiom Law.
Attracted by our compelling combination of legal technical excellence and cost-competitiveness, the presence of such legal giants in Northern Ireland has increased the profile of the region among the international legal industry and highlighted, as a result, the expertise and capabilities of NI lawyers and our legal tech community.
The International Bar Association Conference, the largest and most widely recognised legal conference in the world, is taking place in Washington DC this week and provides a unique platform to promote NI legal services for both inward investment and trade opportunities.
This high profile event is attended by thousands of lawyers and Invest NI is using the platform to showcase the expertise Northern Ireland lawyers can offer internationally and to profile the region as a leading destination for legal services investment.
A 25-strong delegation from Northern Ireland's legal industry have travelled to the US to attend the conference and participate in a follow-on mission to New York.
Anne Beggs explains Invest NI's rationale for the trip and the significance of our local legal sector:
The overall delegation includes 13 solicitors from eight Northern Ireland law firms, three Northern Ireland barristers, two Northern Ireland legal tech firms, the Ulster University Legal Innovation Centre and five senior representatives from the NI legal professional bodies, Law Society of NI and the Bar of NI.
Barrister and Arbitrator, David Sharp shares his thoughts and objectives for the trip:
Invest NI has arranged a programme of meetings for the trade mission participants as well as workshops, seminars and events to make new contacts and share knowledge with senior legal and technology leaders.
The trade mission follows Invest NI engagement with the local legal sector over the last three years focused on exploring and developing of export market opportunities. We have also been encouraging the associated professional bodies to develop a more international outlook and to actively support their members' export ambitions.
Chris Ross, Managing Partner in John McKee Solicitors speaks about the company's expansion plans and how attending at the IBA conference will support the firm's objective:
Northern Ireland is an emerging force in Legal Technology with recognised strengths in innovation, research excellence.
Invest NI is promoting Northern Ireland as a region that is responding to the changing global legal landscape by providing a full range of innovative, alternative solutions including:
A prime location of for legal and shared services operations
Opportunities to expand in-house legal capabilities
A source of internationally relevant legal expertise for law firms and general counsel as well as legal outsourcing options from the region's indigenous firms
A location for mobile investment in LPO (Legal Process Outsourcing)
A location of choice for mobile investment in legal technology
A broad of legal tech solutions developed by a globally renowned IT sector from document management, analytics products, testing and other relevant software services through to cyber security solutions (see legal tech proposition)
Cutting edge research and specialism in cyber security, artificial intelligence and analytics in our world-class universities
A growing specialism in regulatory compliance and associated tech solutions
Ulster University's Eugene McNamee, highlights establishment of the UK's first Legal Innovation Centre and comments on the collaborative working with Invest NI to promote the NI legal sector.
The reception hosted by NI Bureau promoting Northern Ireland's legal sector last night was well received and gave our delegates the opportunity to network with influential professionals in the international legal community.
First Minister, Arlene Foster, delivers keynote address promoting NI legal services sector during #IBA2016 in Washington. @TheBarofNI pic.twitter.com/BjxGsm6yu8

— NI Bureau (@NI_Bureau) September 22, 2016

First Minister Arlene Foster provided the keynote address where she reinforced the expertise and talent Northern Ireland lawyers can offer internationally and the region's strengths as a leading destination for legal services investment
The First Minister supported a legal trade mission organised by Invest Northern Ireland, which includes attendance at this year's International Bar Association Conference in Washington and meetings in New York.
The International Bar Association (IBA) is a representative organisation for the legal profession and its annual conference attracts over 6,000 practitioners across the global legal community.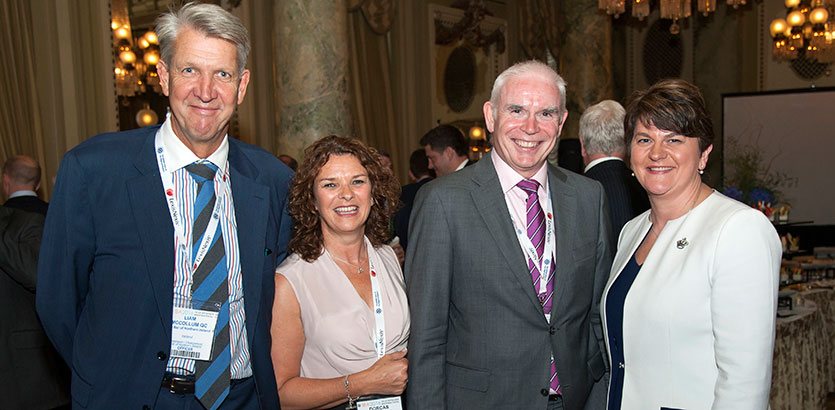 Pictured left to right: Liam McCollum QC, Dorcas Crawford (Edwards & Co Solicitors), John Gordon (Napier & Sons Solicitors) and First Minister Arlene Foster.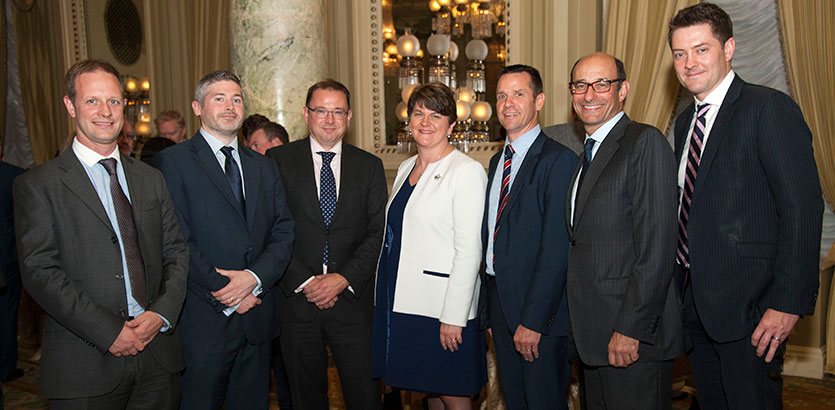 Pictured left to right: David Markey (Foley and Lardner LLB, Los Angeles), David Jones (Tughans), Peter Stafford (A&L Goodbody), First Minister Arlene Foster, Chris Ross (John McKee), Jonathan Hool (Hool Law) and Alastair Keith (A&L Goodbody).