Northern Ireland's SMEs supported with £5m equity fund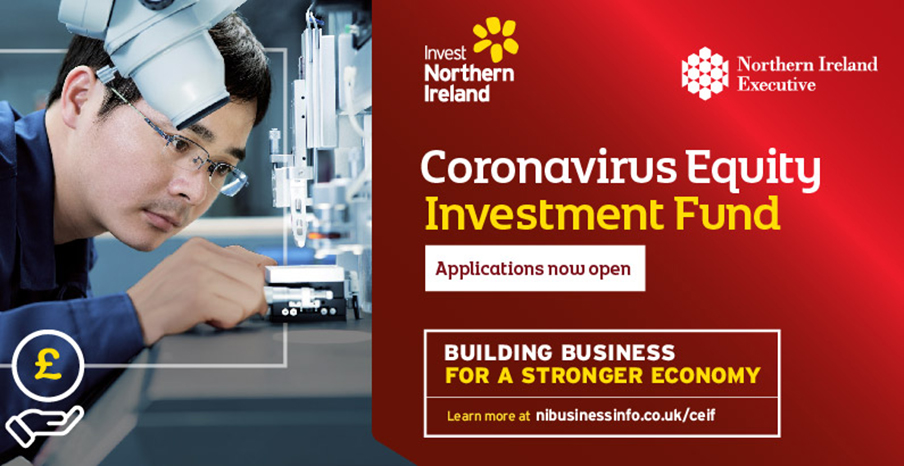 The COVID-19 pandemic has had a severe impact on SMEs across the UK, and Northern Ireland is no exception. 
SMEs, particularly early stage high-potential start-ups, have seen their daily businesses interrupted and have felt the impact of reduced funding options available to them at this time.
To help resolve this, we have introduced a new COVID-19 Equity Investment Fund (CEIF) as part of our Access to Finance portfolio.
Filling the investment gap
As a potential source of funding, this £5 million fund will offer support to early stage SMEs with high-growth potential to help strengthen their COVID-19 response and recovery. It will offer access to investment funding if a company has maximised investment from all other funding sources, such as institutional and private investors, the Future Fund and our Access to Finance funds.
Funding of up to a maximum of £700,000 per business is available to support business recovery and growth ambitions. The funding is available through equity investment or Convertible Loan Notes (CLN) and on the same terms as from other investors in the funding round.
Supporting SME innovation
As an early stage, high-growth potential business, a company must meet the eligibility criteria, including if the majority of its operations is based in NI and has had its opportunity to raise external funding impacted by COVID-19.
It should also have a significant international market opportunity, ideally with innovative technology.
The fund supports technology and innovative businesses, with a focus on the following sectors:
advance manufacturing, materials and engineering, including materials handling

digital and creative technologies

life and health sciences

cyber security

precision medicine

big data, internet of things and analytics
By filling the gap left by private investors in funding rounds, the CEIF will help to ease the pressure placed on businesses to secure the support they need. It will assist them to thrive in both the short-term and long-term future, ensuring they remain a vital part of our local economy.
All legal documentation must be completed by 12 noon on 31 December 2020. 
Assessment timescales will differ and we encourage applicants to submit proposals as early as possible.
Details on the full eligibility criteria, how to apply and timescales involved are available here.
Invest NI's Access to Finance funds are part funded by ERDF under the EU Investment for Growth and Jobs Programme 2014-2020.