Rising to the Challenge: Northern Ireland's Life Sciences Industry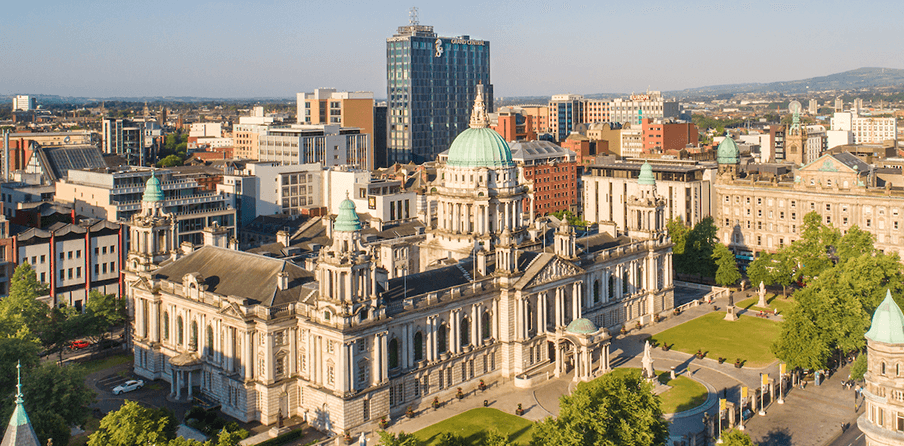 The global response to COVID-19 has been awe-inspiring, with the life sciences industry rising to address this once-in-a-century challenge.
I am particularly proud of Northern Ireland's contributions during the crisis. Our manufacturing sector quickly pivoted and is punching above its weight developing COVID-19 personal protective equipment (PPE), testing, diagnostics, and medical equipment. In one example, County Antrim's Randox Laboratories worked alongside Bosch to develop a rapid Covid test in less than six weeks. It's one of the world's first fully automated molecular diagnostic tests and can detect a SARS-CoV-2 infection in under 2.5 hours. They have also been selected by Pure Health, the largest laboratory network in the UAE, to test airline passengers flying into the United Arab Emirates, in accordance with the UAE's requirement.
As a small nation (a population of 1.8 million) with a celebrated industrial heritage, Northern Ireland is a place you would naturally look to for technological discovery. Our keen focus on the future, teamed with the region's entrepreneurial tradition, academic strengths and international connections, has created a unique innovation ecosystem over decades; one that has resulted in Northern Ireland becoming home to many of the sectors that are transforming our world for the better, particularly Life Sciences.
Today after the UK has left the European Union, a base in Northern Ireland presents a truly unique opportunity for life sciences companies to directly access British and European life sciences markets, with Northern Ireland the only place in the world with direct, open access to both European and GB markets. It also offers unrivalled access to both US to the west and Asia to the East.
An Ecosystem That Drives Growth
Our universities, companies, regulatory authorities, and healthcare systems are highly connected and collaborate intimately in a way that doesn't happen in larger countries or less integrated areas of a similar size. More than 250 life and health sciences companies operating in Northern Ireland take advantage of this ecosystem; these include global names like Almac, Stryker, G&L Scientific, Norbrook and Teva Pharmaceutical Industries, who have invested in Northern Ireland.
Pharma companies operating in Northern Ireland can support all aspects of the development cycle, from discovery through preclinical and clinical research to commercial manufacturing and life cycle management. Almac Group, a home-grown global player, provides an extensive range of integrated services across the drug development lifecycle to companies within the pharmaceutical and biotech sectors across the world. It is leading at the forefront of discovery in many global blockbuster drugs.
Small and medium-sized enterprises are an integral part of the cluster as well, including ProAxsis, Exploristics, Cirdan Imaging, CV6 Therapeutics, Fusion Antibodies, Intelesens, Kainos, Diaceutics, and AxisBioServices.
Together, companies of all sizes are focused on advancing pharma, diagnostics, precision medicine, connected health, and medical devices. This dedication has bred success, with the industry generating a turnover of more than $1.41 billion in 2019 and employing more than 8,500 people.
Expertise in Digital and Connected Health
Northern Ireland's healthtech sector has developed a range of specialities including precision medicine, diagnostics, e-health and data analytics, making it home to a vibrant cluster.
Major players in the healthtech sector include the likes of Diaceutics, which works with pharmaceutical firms on using data analytics on diagnostic to bring personalised medicine to patients. Neurovalens, which specialises in combining neuroscience and technology to tackle global health challenges, is also a key player. Kainos has been supporting digital transformation in healthcare sector for over 10 years, from creating a digital front door to the NHS with the NHS app, to developing flexible, regional platforms and digitalising hospitals through their open interoperability platforms.
There are also emerging cross-sector strengths inAI and data analytics and world-class expertise in cybersecurity and software development. The intersection of so many fields, made possible because of the manageable size of the business environment and highly skilled graduates breeds innovation.
Northern Ireland Universities
The integration of academic research, clinical practice, and technological expertise allow scientific programs to link directly to clinical outcomes, helping companies in Northern Ireland accelerate development efforts and be more successful sooner than competitors. Northern Ireland's two major universities, Ulster University and Queen's University Belfast (QUB) offer globally competitive research expertise, including 17 research centres between them, and an excellent track record in commercializing technologies. Ulster University will open one of the UK's few new medical schools in Derry in 2021.
Those, which are particular drivers in the Life and Health Sciences sector, include Ulster University's Connected Health Innovation Centre, which is at the forefront of business-led connected health research, with a focus on the management of long-term chronic conditions. Ulster is also home to the Intelligent Systems Research Centre which provides a state-of-the-art research environment for bio-inspired neuro-engineering, brain-computer interfacing, computational neuroscience, cognitive robotics and, instrumentation. It also provides facilities for research in ambient intelligence and wireless sensor networks.
Queen's University Belfast research centres of excellence include The Patrick G Johnston Cancer Research Centre, Precision Medicine Centre QUB, and The Wellcome-Wolfson Institute for Experimental Medicine whose researchers were recently awarded grant funding to find an urgently needed treatment for COVID-19, led by Professor of Molecular Virology, Ultan Power. These facilities provide an unbeatable base for discovery and innovation that fuels home-grown entrepreneurship. Indeed, it is the strength of these facilities' collaboration with industry that lends Northern Ireland its competitive edge.&
Northern Irish universities have a strong track record of spinout creation, which include companies such as Liopa, Intelesens and Axial 3D.  QUB is rated #1 UK university for generating spinout companies.
With strong political support for life sciences and health innovation, the Health Innovation Research Alliance Northern Ireland (HIRANI) was launched in 2021 to supercharge collaboration. By bringing Queen's University Belfast, Ulster University and key Northern Ireland private and public partners together, this alliance aims to provide 'one voice' for the Life & Health Sciences industry and enable the sector to collectively promote and strategically position itself nationally and internationally.
Medical Manufacturing in Northern Ireland
The manufacturing industry in Northern Ireland in recent years has grown almost three times faster than in the rest of the UK, and part of that is due to medical manufacturers taking advantage of regional strengths in plastics and polymers, composites design and manufacturing, and precision manufacturing.
Take for instance Denroy Plastics, the world's leading innovator in the design and manufacture of engineered polymer components and solutions. When the pandemic hit, they applied their plastics manufacturing expertise to medical products, making PPE masks through their Denpro line, including the bubl – a supple, see-through mask with replaceable filters, the Hero Shield and FFP3 hi-protection masks.
Paragon Health made a similar pivot. They may be better known for their SeatingMatters line, which designs and manufactures clinical, therapeutic seating for patients and caregivers. However, the company ramped up efforts to become a manufacturer and international exporter of Type IIR medical masks, helping meet the global demand for disposable PPE.
The industrial applications of 3D printing in manufacturing is demonstrated by Axial3D. They usually create patient-specific models of human anatomy. During the pandemic, Axial3D repurposed experience and resources to help develop 3D printed parts for ventilators for the NHS, face shields for frontline workers, and 3D printed nasal swabs for testing for the virus.
Northern Ireland's GCC Footprint
The Gulf Cooperation Council (GCC) is UK's third-largest non-EU export destination, behind just the US and China. Companies from Northern Ireland continue to play a key role in contributing to the GCC's ambitious healthcare sector development agenda.
Both Queen University Belfast and Ulster University have enjoyed successful collaborations in the Middle East region for many years. Recently, the academic partnership between Queen's and Dubai Healthcare City to support the development and establishment of Mohammed Bin Rashid University of Medicine and Health Sciences (MBRU) has been a considerable success. Ulster University on the other hand also continues to develop and grow academic and research partnerships with stakeholders in the region, notably through their campus in Qatar.
Biopanda Reagents, a manufacturer of high-quality cost-effective support reagents, has been supplying thousands of tests to Bahrain and their tests have also been registered with the Saudi Arabia FDA.
TriMedika, manufacturers of an innovative non-contact infrared thermometer for clinical use, has been actively working with a number of partners in Kuwait, Qatar, UAE and Saudi Arabia, supplying their thermometer into the healthcare establishments across the region – an excellent early warning technology in times of virus.
Lowe Rental and Kitchenmaster, with their presence in UAE, are providing specialist vaccine cold-storage solutions and disinfectants, respectively, to stakeholders within the region.
It is through a unique combination of talent, cost, regulatory compliance, product quality and availability, IP protection and now unique dual-market access that Northern Ireland continues to play a key role globally in providing innovative solutions to the world's healthcare challenges.
Invest Northern Ireland in the Middle East
Our India, Middle East and Africa Regional HQ is based in Dubai (UAE) and we would be delighted to facilitate discussions with Northern Irish Life Sciences companies. Please contact Fahd Asif, Senior Business Development Manager (GCC) on fahd.asif@investni.com for further details.
About the author
Kevin Holland is the Chief Executive of Invest Northern Ireland. He previously served as Minister-Counsellor for Life Sciences, Health and Social Care at the British Embassy in Beijing from 2016 to 2019. Before then, Holland was with Baxter for 15 years where he led the company's businesses in the Middle East and Africa based in Dubai, Russia, Turkey and across Europe. Prior to that, he held European R&D management roles at Unilever. Holland graduated from Oxford University with an MA in Chemistry and received his MBA from the IMD Business School in Switzerland.