Rising to the COVID-19 challenge (Part 2)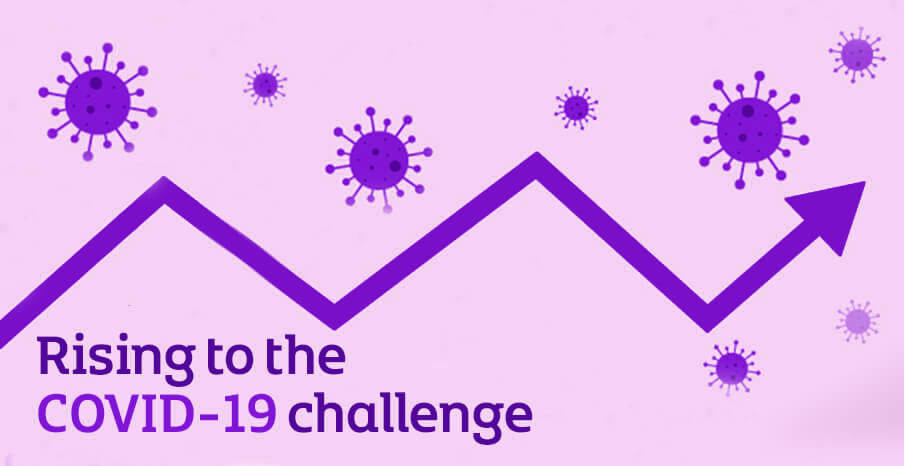 In the previous feature (Part 1) we looked at how Northern Ireland businesses such as Armstrong Medical, Bloc Blinds, and O'Neills are rising to the challenge of COVID-19. In Part two we continue to look at businesses that are ramping up production to meet demand, using existing expertise to develop COVID-19 tests and those businesses who are collaborating to develop products that are helping to save lives. 
Teaming Up to Take On COVID-19
Northern Ireland has a strong history of collaboration so it isn't surprising to see companies proactively coming together to take on COVID-19.
Newtownards based baby products supplier, Shnuggle has used its years of R&D experience to rapidly design and validate an innovative low-cost, high volume face shield for frontline care workers. The firm created a non-profit company known as 'Hero Shield ltd' and put together a collective of almost 20 Northern Ireland companies to help manufacture and distribute the essential PPE equipment to key workers.
We are typically a design company but Covid-19 forced us to pause our own R&D activity and temporarily furlough our design team. Recognising the burgeoning demand for visors, we developed the Heroshield and reached out to our extensive local network of contacts. We were amazed that so many local companies were prepared to support the project for free or at cost. Since we started production at the start of April, the collective has made and shipped over 60,000 HeroShields, the majority of which have been donated free of charge to frontline care workers.
Not only have we assisted Heroshield, we have also received an order from Glen Dimplex to again produce a high-end tool within very tight timelines.
Roger Vance, Managing Director, Ad-Vance Engineering
The company was selected as a key supplier of sheet metal components due to its flexibility and rapid turnaround.
North West healthcare seating manufacturer, Seating Matters has teamed up with McAuley Fabrication & Hutchinson Engineering to design and produce a type of bed for rapid deployment in field/temporary hospitals. The beds will be used by patients and for staff accommodation. The company is through the testing phase and is going into production. It has received expressions of interest from NHS England and Wales.
The company is also in partnership with Portadown based Plastic Promotions to produce protective shields for frontline healthcare workers.  
Test Test Test
Northern Ireland's Life & Health Sciences sector is renowned for housing some of the world's most innovative companies in leading diagnostics. Following the World Health Organisation's recommendation for the urgent need for testing, Northern Ireland companies including Randox, Almac, CIGA Healthcare, Fusion, BioPanda Reagents and Fortress Diagnostics are responding to the challenge to develop testing solutions for the detection of COVID-19.
Randox Laboratories is providing a test to combat and detect COVID-19. The company is supplying a significant element of its current COVID-19 testing capacity to the UK national testing programme. That programme is focusing on key workers and the NHS.
Fusion Antibodies  which specialists in pre-clinical antibody discovery, engineering and supply, is working with Queen's University Belfast ("QUB") as part of The Northern Ireland Coronavirus Antibody Development Alliance ("NICADA"), which has been established to seek new therapeutic and diagnostic approaches to help in the global fight against the coronavirus pandemic.
Fortress Diagnostics has developed a new test in its efforts to help respond to the requirement for reliable rapid detection of Coronavirus. This test enables quick and informed treatment decisions to be made at the point of care. 
Ballymena based CIGA Healthcare is part of the UK Rapid Test Consortium, set up to respond to the COVID-19 challenge. The consortium includes Oxford University, Abingdon Health, and BBI Solutions and aims to design and develop a new antibody test to determine whether people have developed immunity after contracting the virus.
Belfast based BioPanda Reagents has developed a lateral flow COVID-19 Rapid Test Kit  for professional healthcare use for the detection of antibodies to COVID-19 in blood samples which can assist in the diagnosis of infection. 
Innovation
Lisburn security firm, Mercury Security and Facilities Management has created a new fever screening technology that will detect a person with a high temperature from a distance, in just one second. This has the potential to help in the early detection of one of the key COVID-19 symptoms.
TruCorp
Belfast based TruCorp Ltd has pioneered a new way to train medics in the use of ventilation equipment using a simple, cost-effective app. This will help with hospital training requirements when social distancing is so vital. 
Almac
Craigavon based, Almac is supporting 34 separate crucial research projects to accelerate COVID-19 treatment for a variety of global pharmaceutical, biotech and research institutions, and in discussions to support an additional 40 programmes.
Ramping up Production
Omagh based manufacturer, Naturelle Consumer Products Ltd has responded to the COVID-19 crisis with its innovative line of disposable contamination control and infection control products. Following our support in 2019, Naturelle began expanding its Omagh operations to serve an increased customer demand around the world. COVID-19 has presented many challenges for the company and it has responded by ensuring it can safely increase its capacity to help serve the huge demand for its products to its customers across the UK and Ireland.
Belfast city centre hotel Ramada by Wyndham has collaborated with the Belfast Trust and private provider, Healthcare Ireland to transform itself into a 'step-down centre' for patients recovering from COVID-19.  As part of a plan to reduce hospital flow the hotel will cater for almost 150 people discharged from hospital who still require care.
Car Seat Covers Direct based in Derry has repurposed its business from making high-end car seat covers to using its machinery to make scrubs for frontline healthcare workers through the NI Scrubs Group.
Continuing our support to manage the impact of COVID-19
It remains our priority to support the economy and businesses during this situation.
We have organised a series of free webinars and tutorials specifically focused on helping businesses understand the implications of COVID-19.  You can watch again and register for future seminars on the Resources section of our dedicated COVID-19 support page.
We have also reviewed our current arrangements with customers to allow us to release grant payments quicker and ensure much needed cash flows into businesses and the wider economy. We plan to introduce new approaches to our customers soon to help improve their short-term survival and long-term growth.