Acksen wins first export business in Chile
26 September, 2012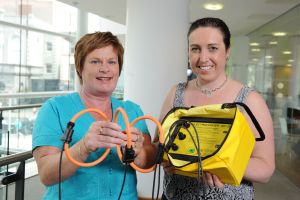 Acksen, the Whiteabbey-based manufacturer of Electrocorder data loggers for monitoring electricity supply, has won its first business in Chile as part of an international campaign to drive sales forward faster.
Acksen's Electrocorder data loggers are also used for energy management as well as electrical fault finding / testing by electrical contractors, power distribution companies, facilities management, electrical or site-services and maintenance engineers.
Analysis of the results recorded by the data loggers can be used to solve supply problems and improve efficiencies in energy utilisation.
The company is to supply its state-of-the-art data loggers to Ingesin in Santiago, a leading distributor of equipment for the electricity industry in Chile. Acksen's data loggers will be used to fulfil business secured by Ingesin to supply Chilquinta, which is owned by Sempra International, Chile's third largest electricity supplier. Both Ingesin and Chilquinta are major players in the provision of power in Chile.
The significant deal in Chile follows Acksen's other recent successes in the Czech Republic and Poland from its participation in an Invest Northern Ireland trade mission.
The contract in Chile was announced by Charlene Thompson, Acksen's Marketing Manager, and welcomed by Dr Vicky Kell, Invest NI Trade Director.
Invest NI has organised a first time trade mission to Santiago in November.
Mrs Thompson said: "The contract with Ingesin is the outcome of extensive market research by me to pinpoint the right distributors for our products in key international markets. I identified Ingesin as having the right profile for us and approached them back in April 2011.
"They considered our product and downloaded the software analysis program we provide with the loggers. They subsequently evaluated the loggers based on the quality of the data analysis available and then considered how they would fit into their portfolio and requirements of their customer base.
"Initially they were interested in our voltage data loggers, which are used mostly to find faults by electricity power utilities. Increasingly our loggers are being used in Voltage Optimisation technologies.
"Chilquinta has now purchased a quantity of ourdata loggers to measure power throughout its operations," added Mrs Thompson.
Dr Kell said: 3This immensely encouraging contract for Acksen shows that smaller Northern Ireland companies have internationally innovative technologies that can command attention and lead to business worldwide with key players even in distant markets such as Chile.
"This ambitious company's latest success is the outcome of a highly professional marketing campaign which we are keen to encourage and assist. Acksen has already derived substantial benefits from its participation in a recent mission and will also be taking part in a forthcoming Invest NI organised visit to Turkey.
"Acksen is growing through careful evaluation of business partners in its target markets and now has an extensive network that is generating significant export sales."
Acksen has a network of distributors in North America, Australasia and Europe supplying its data logging equipment to customers which have typical roles and responsibilities around environmental planning, regulation and monitoring of energy use with respect to CO2 emissions.
Established in 1994, Acksen, which employs five people, has grown from a small local UK based company to one that is now respected on a number of continents as offering a solid alternative to global brands which service large scale complex solutions for electrical data logging equipment.
Acksen is a privately held limited company with several key industrial shareholders. It sells through a series of international resellers and distributors.