Alexander Mann Solutions Creating 250 New Jobs for Belfast
01 July, 2014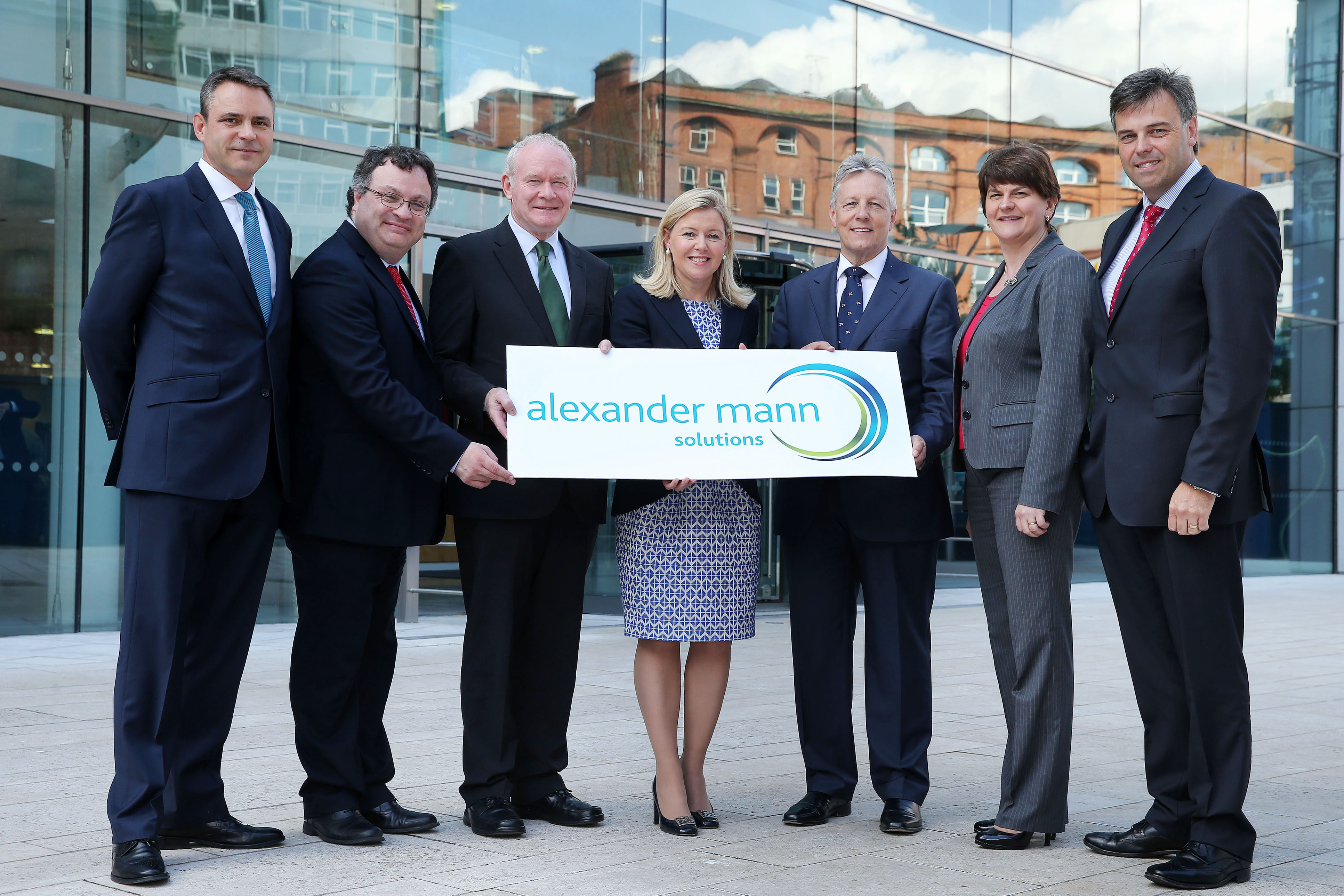 First Minister the Rt Hon Peter D Robinson MLA and the deputy First Minister Martin McGuinness MLA today announced that Alexander Mann Solutions is establishing a global client service centre in Belfast creating 250 jobs.
Headquartered in London, Alexander Mann Solutions is the world's leading provider of talent acquisition and management services with an international blue-chip client base. It employs over 2,200 people in over 80 countries.
Making the announcement at Invest Northern Ireland's headquarters at Bedford Square, the First Minister Peter Robinson said: "I am delighted to welcome another world-class company to Northern Ireland and to announce 250 new jobs in our important business services sector.
"Northern Ireland is achieving global recognition as a premiere location to invest and I welcome Alexander Mann Solutions decision to establish its business in Belfast. One of the key reasons for our continued success in attracting investors is that we have a population that is young, educated, highly skilled and ready to work.
"Northern Ireland continues to successfully meet the needs of large international companies like Alexander Mann Solutions and these new jobs will offer a broad range of employment and training opportunities."
The deputy First Minister Martin McGuinness said: "This is fantastic news that Alexander Mann Solutions will establish a new centre in Belfast generating annual salaries of £6.1million.
"The business services sector is one of our fastest growing sectors in terms of employment and has been developed largely by inward investment by many major international investors. Our support for inward investors does not stop once the initial investment is secured. The Executive will continue to work with Alexander Mann Solutions to ensure it makes best use of the wide range of support available and develop a mutually beneficial long-term partnership."
Enterprise, Trade and Investment Minister Arlene Foster said: "Alexander Mann Solutions' investment in Northern Ireland is good news for the local economy and once again highlights Northern Ireland as a cost effective investment location.
"Invest Northern Ireland and DEL's Assured Skills team have worked closely with the company over the past year to encourage AMS to select NI as a location for a new global client service centre. The 250 new jobs to be created will appeal to those entering the world of work for the first time as well as those with more industry experience wishing to avail of career development opportunities."
Employment and Learning Minister, Dr Stephen Farry said: "I am pleased that the support my Department offers through the Assured Skills programme has resulted in this substantial new investment in Northern Ireland by Alexander Mann Solutions.
"A highly skilled labour force is essential to support business growth and expansion, and the decision by Alexander Mann to create 250 jobs in a new Global Client Service Centre shows the confidence they have in the talent and skills available in Northern Ireland.
"Assured Skills funding from my Department will ensure that Alexander Mann Solutions has the support necessary for training initiatives to develop the skills required for these new roles."
Invest Northern Ireland is supporting the new jobs with a grant of £1,000,000 and further assistance of over £600,000 including support for training, part funded by the European Regional Development Fund. The Department for Employment and Learning has also offered £400,000 through its Assured Skills programme.
Rosaleen Blair, an Irish-born entrepreneur and founding CEO of Alexander Mann Solutions, commented: "There is no doubting why Northern Ireland is the leading UK region for inward investment outside of London. In particular, we were attracted to Belfast's compelling combination of a highly-educated and multi-lingual workforce, a cost competitive infrastructure and a pro-business operating environment. We are confident that the city is the best strategic destination for the next stage of our global development, and we are delighted to be working with Invest NI to generate high value jobs that boost the local economy."