Boosting Business
02 November, 2011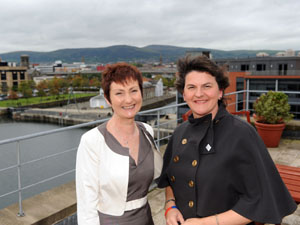 Invest Northern Ireland's Boosting Business campaign has been recently launched as a direct response to the renewed economic downturn and embraces a range of support measures that are designed to address all of the key issues facing businesses, large and small, across the Province.
The Boosting Business measures focus on helping businesses to create and protect jobs; to build the skills of their workforce; to use new technology to improve their competitiveness; to create new products and take them to new markets.
As part of this, we have reviewed existing products and services to see if, and how, we can make them either available to a wider business base, or make them easier for businesses to benefit from.
At the same time, we have considered what other new products or services we may be able to introduce to help business.
A range of actions which can be quickly implemented have been pulled together under a number of themes – Jobs, Exporting, Research and Development, New Technology and Skills.
Whilst Invest NI's primary focus is on boosting the competitiveness of our economy, the impact of recession in terms of the continued upward trend in unemployment and the associated reduction in the employment rate, has resulted in a need for a temporary shift in emphasis towards job creation in the short to medium term.
To address this, in April we introduced the Short Term Employment Scheme to deliver a range of measures covering the length and breadth of the economy which will support new investments that provide job opportunities, with a particular focus on those in areas of economic disadvantage.
With a ring fenced budget of £19m, there are very clear targets to promote 5,000 jobs over the period 2011-15, with 4,000 jobs being created by March 2014.
In order to bring greater clarity to the scheme and to increase awareness of the changes being introduced, we have decided that, moving forward, the Short Term Employment Scheme will simply be known as "The Jobs Fund."
"The Jobs Fund"
Alongside measures to support companies to create jobs, the Jobs Fund also includes increased support across the Social Enterprise sector, grants for new business starts for individuals who are resident in Neighbourhood Renewal Areas (NRA) and to young people aged 16-24 not in Education, Training or Employment (NEET).
All of these measures are available to small business and several are specifically focused on new business start-ups.
Despite having a very healthy pipeline of projects – there are currently over 40 – a number of changes have recently been made to the scheme to make it even easier for businesses to employ additional staff. These include increasing the level of grant support available to encourage employers to increase the numbers they are employing and to increase the rate at which people are being recruited.
We will pay the full grant amount for eligible employees at one month (previously six months) of the project start date in a single 100 per cent claim.
In addition, and to encourage a wider use of the Jobs Fund, we have introduced a new "slimmed down" Application and Casework Submission process for offers of support up to £50,000, to encourage businesses that could create even one or two extra jobs to apply.
To date, the largest single project announced under the Jobs Fund was the recent 336 job announcement by Capita Life and Pensions. Alongside this have been a number of smaller announcements where businesses have been supported to create a more modest, but no less important, numbers of jobs. These have included Creative Composites in Lisburn and Axa Insurance, Fresh Food Kitchen and One Stop Data, all based in Londonderry and illustrate the range of businesses which can benefit from the fund.
Exploring new markets
To encourage more of our local businesses to generate sales outside Northern Ireland, we have increased the support available to explore markets including providing funding to spend additional days in market, while on a Trade Mission, to visit other regions.
Additional resources have been put into key international markets to help local businesses build their presence and identify opportunities. We will also consider funding for return market visits between missions to help businesses build contacts and develop sales opportunities. For businesses considering their first foray into new markets, we will provide free market research for a first time visit to an international market and a financial contribution towards other market research including work from UK Trade & Investment (UKTI).
For many of our smaller businesses, the greatest challenge they are currently facing is how to manage their cashflow and other financial aspects. To assist businesses to gain a greater understanding of the key financial issues facing them at this time, we will shortly be delivering a series of workshops to provide advice and practical steps to help improve cashflow, manage payments and suppliers, recover debt and avoid insolvency, access funding for new projects and plan for the future.
The "Focus on Finance" series
The "Focus on Finance" series will be held in six locations across Northern Ireland and will mainly appeal to smaller businesses which are not currently customers of Invest NI.
Each of the regional one-day events will consist of three interactive workshops, following which attendees will be able to apply for a one day assessment which may lead to up to four days free financial consultancy to put their business on a better financial footing and help them through the current downturn.
This article appeared in the November 2011 edition of Business First.