CIGA Healthcare strengthens position in Libya
28 March, 2012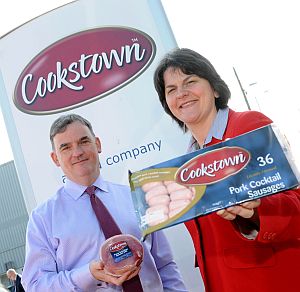 CIGA Healthcare, the Ballymena-based specialist in self-diagnostic tests, has won a second contract in Libya which strengthens its position in this developing market in North Africa.
The company, which has taken part in a series of Invest Northern Ireland missions to markets in Africa and the Gulf states particularly Saudi Arabia, gained its first contract in Libya in 2011 for its SureSign range of diagnostic kits, now on sale in over 40 countries worldwide.
The kits are used for home tests for conditions such as high cholesterol, diabetes and blood pressure and are now being sold in pharmacies throughout Libya.
The contract positions CIGA for significant potential growth following political developments in the marketplace last year.
The restoration of business with Libya was announced by Christian Berglund, CIGA's International Sales Manager, and welcomed by Dr Vicky Kell, Invest NI Trade Director.
Dr Vicky Kell said: "CIGA's commitment and determination to expand business in Libya are now producing tangible benefits. The focus of the company on this market has facilitated the identification and exploitation of opportunities. Such opportunities exist for other Northern Ireland companies across a broad range of sectors.
"We recently held a very successful briefing for around 50 local companies about Libya in Belfast and will be exploring further initiatives to help them to grasp opportunities there.
"Our companies can play an important role in helping Libya to recover from the recent events and in the nation's reconstruction. As CIGA's success has demonstrated, Libya is a market that repays patience and persistence. The economy is expected to rebound strongly, with the UN forecasting growth rates of 4.2 per cent, well above the current international average.
"The Libyan reconstruction programme is estimated to require over £100 billion in expenditure over the next 10 years. Opportunities have been identified across a number of areas where the authorities have identified an urgent requirement for assistance e.g. setting up an effective healthcare system.
"Our companies can also access advice and guidance from the recently strengthened UKTI team in Libya. The team has already identified key areas where businesses can help, including airports and ports, education, infrastructure, oil and gas, health, and policing."
Mr Berglund said: "We are delighted to be shipping our products again to Libya after the political changes there recently. While sending products there during the period of unrest was impossible, we kept in close touch with our business contacts in Tripoli over the past year to ensure that we were ready to supply kits when the distributor was in a position to distribute them to his customers.
"It's a significant market in the region and one that we have long believed offers substantial business opportunities for our product range. Companies there are also keen to do business with suppliers in the UK and other parts of Western Europe. We've also found that Libyan business people are very professional and easy to work with.
"It's a market that we are keen to develop as a springboard for growth across what is becoming an important region for us. Conditions such as diabetes and high blood pressure are also a concern in Libya and parts of North Africa and the Middle East," he added.
CIGA Healthcare currently employs 15 people at its premises in Ballymena. The company has received a range of advice and support from Invest NI's North Eastern Regional Office to develop the business in areas such as international sales, management systems and skills.