Cloughbane expansion boosts food industry in Tyrone
29 July, 2010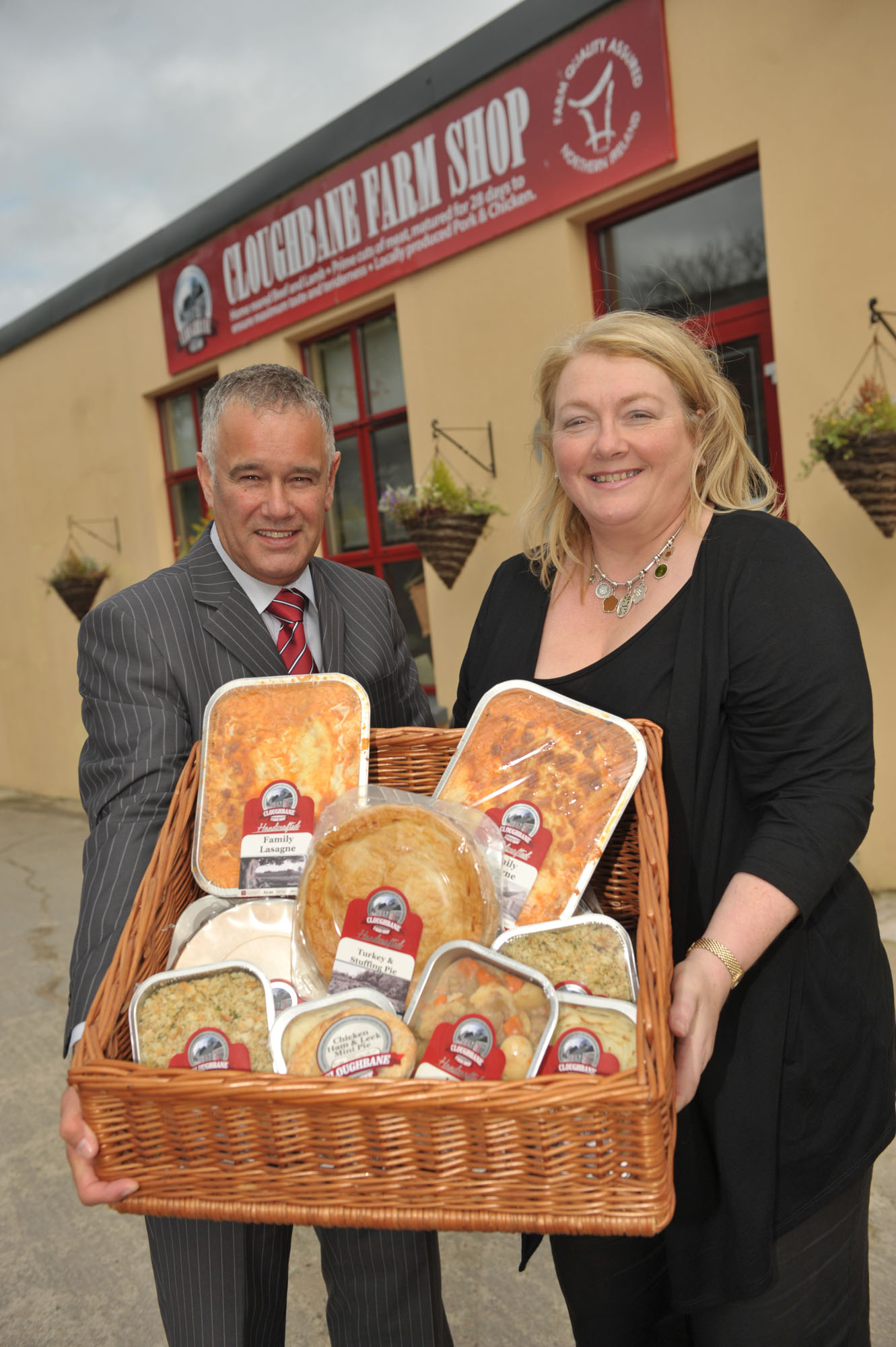 Cloughbane Farm Foods in Pomeroy is being assisted by Invest Northern Ireland and the Department of Agriculture and Rural Development (DARD) to expand sales of added-value meat and poultry products in a £625,000 expansion of the family-owned and run business.
The company, formed by Sam and Lorna Robinson in 2003 and located on their 180 acre family farm, currently supplies around 70 per cent of its added-value and cooked products to trade customers in Northern Ireland, the Republic of Ireland and Great Britain. Invest NI has offered support part funded by the European Regional Development Fund (ERDF), and DARD support has been offered under the EU Processing & Marketing Grant (PMG) Scheme.
The expansion plan was announced by Maynard Mawhinney, Invest NI Food Director, during a visit to the Tyrone business, which started as a farm shop and has now developed into a successful food processing business. Upwards of 90 per cent of the meat and poultry products are sourced from the family farm. The expansion will create 11 new jobs by the end of this year.
Mr Mawhinney said: "Cloughbane Farm Foods is an excellent example of a farm project that has become a very successful manufacturing business specialising in products that meet the growing market demand for food which is safe and traceable. These two themes underpin our new Focus on Food strategy for the development of Northern Ireland's biggest manufacturing sector, a £3 billion industry that's competing increasingly successfully in the global marketplace.
"Cloughbane's ready meals and convenience products have a high meat content and an artisan, home cooked look and taste, and are as preservative free as possible. Our support is geared to assist this ambitious company to harness the new business opportunities that it has pinpointed through meticulous market research.
"Invest NI has worked with the company and DARD through the PMG Scheme to help the firm to grow. The investment being undertaken will enable Cloughbane Farm Foods to expand production capacity and to strengthen its knowledge and capability in key activities such as new product development, management and marketing particularly in target markets outside Northern Ireland.
"The company is already making a very positive contribution to a rural community in a Targeting Social Need area. This investment will deliver further economic benefits, including new jobs, increased wages and salaries, higher sales revenue, linkages with knowledge base at the Loughry campus of the College of Agriculture and Rural Enterprise, adoption of new processes in manufacturing, launch of new products, and the adoption of new e-commerce technology."
Lorna Robinson, who heads up Cloughbane Farm Foods with son Richard, outlining the expansion project, said: "Our aim in making what is a very substantial investment for the business is to drive sales faster by building on our reputation for wholesome products that offer consumers quality at an affordable price. We are very grateful to Invest NI and DARD for their timely assistance.
"Provenance is a key marketing feature for us. Customers know that the products use ingredients from our farm and surrounding farms, and that they are processed to the highest hygiene standards. Our farm shop provides essential first hand feedback from shoppers and will remain an important part of the business.
"It is geared to enable us to move the business on to a higher level of performance and in particular to achieve British Retail Consortium accreditation which we require to be able to win business from major multiples. We are also strengthening our brand identify as well as packaging and labelling.
"Our investment in e-commerce will also enable us to take advantage of the opportunities now developing for sales and marketing through the internet. We already supply customers regularly in the border counties of the Republic of Ireland and are keen to increase business there and also in Great Britain."