Cloughbane Farm Foods plans new gluten and allergen free products
04 November, 2011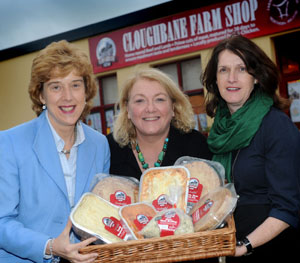 Cloughbane Farm Foods in Pomeroy is being assisted by Invest Northern Ireland to develop an innovative range of gluten and allergen-free products particularly for markets outside Northern Ireland.
The company has been developing business in the Republic of Ireland for its award winning deli meat pies and is using an Invest NI Innovation Voucher to adapt existing pies and to develop new products, including a range of sauces that will enable it to meet a growing market trend for foods that are both allergen and gluten-free.
The Innovation Voucher enables the company, which has gained UK Great Taste Awards for its pies, to work with experts at the Loughry Campus of the College of Agriculture, Food and Rural Enterprise in developing the innovative products.
Olive Hill, Invest NI's Director of Technology and Process Development, announced the Innovation Voucher support during a visit to the Tyrone company, a farm spin-out business, where she was briefed about its new product plans by Managing Director Lorna Robinson. In addition to its broad portfolio of deli pies, Cloughbane supplies a comprehensive range of fresh beef, pork, chicken and lamb cuts, all from a modern processing plant approved to the highest EC hygiene standards.
Mrs Hill said: "Gluten-free is now among the fastest growing sectors in food, particularly in the US and Europe. In the UK, for example, the sale of gluten-free products grew by 20 per cent in 2009 to reach more than £100 million. According to research by Global Industry Analysts in the US, the global market for such products will reach $26 billion by 2017.
"As a result, leading retailers are now expanding their offering of 'freefrom' foods. This clearly presents a significant opportunity for the local food industry, an opportunity identified by Cloughbane Farm Foods.
"Cloughbane was among 41 local food companies to put forward projects in a recent initiative by Invest NI to encourage and assist new product development within this important industry through the Innovation Voucher process, which provides funding to enable an individual manufacturer to link up with a university or further education college such as CAFRE to help commercialise an idea. Forty five projects, in total, were received from local companies and 41 were successful," Mrs Hill added.
Mrs Robinson, commenting on the new products, said: "The decision to expand our existing portfolio with a range of gluten-free products is the outcome of our own market research and is also a response to requests from a number of our customers.
"As a market-led business, we are keen to respond as quickly as possible to new opportunities for the company and to strengthen our reputation as a producer of wholesome, artisan products. The Innovation Voucher will be immensely beneficial in enabling us to access the expertise and knowledge at Loughry in helping us to bring the new products we are planning to market quickly."
Cloughbane Farm Foods has achieved a 50 per cent growth in sales in the Republic of Ireland in the past year from the quality of its homemade lasagne and traditional meat pies.
The company recently teamed up with the Tony Raymond food distribution business in Dublin and has won business in the Irish capital and in surrounding regions for its lasagne and award winning pies.