Cúnamh ICT in Londonderry invests to grow export sales
06 September, 2010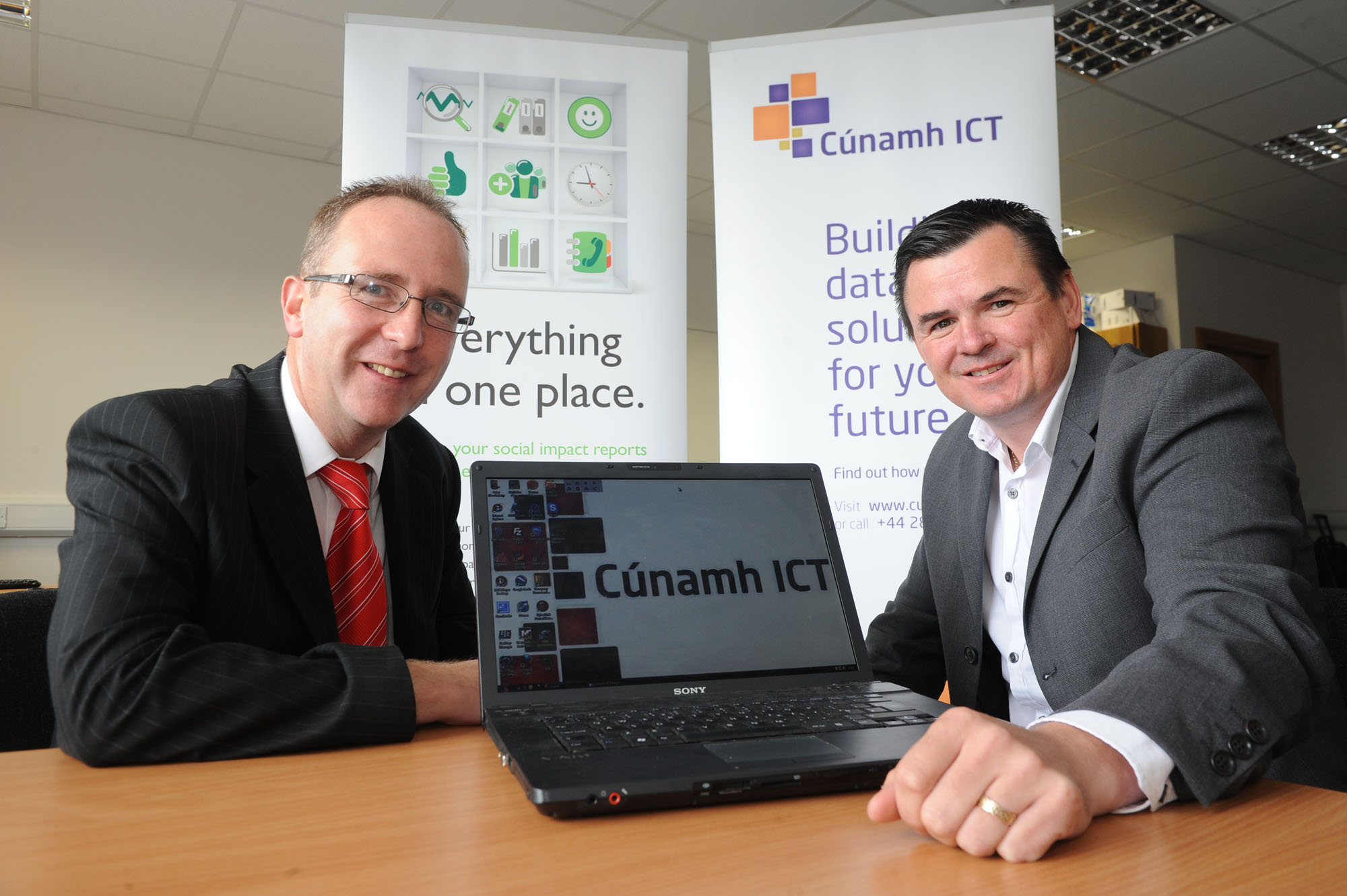 Londonderry-based technology business Cúnamh ICT is being assisted by Invest Northern Ireland to expand exports through a £63,000 expansion.
The company, a social enterprise based in Pennyburn Industrial Estate in Derry city centre, aims to more than double sales of its bespoke software and other services to community and voluntary groups in a project that will provide four new jobs for skilled staff early next year.
Financial support of £17,480 for the project was announced by Des Gartland, Invest NI's North West Regional Office Manager, during a visit to the small business, where he was briefed by Peter MacCafferty, Cúnamh ICT Managing Director.
Mr Gartland said: "Our support will enable this ambitious company to expand its capabilities and experience, particularly in key areas such as marketing, and to exploit new business opportunities in a niche in which it has established a firm foothold since its formation in 2007.
"The business plan objective of a four-fold increase in its sales to community and voluntary organisations in Great Britain and the Republic of Ireland, is certainly achievable through the contacts it has already developed in both these important markets in which such groups make an important contribution.
"Software that Cúnamh ICT has developed enables community and voluntary groups to demonstrate the extent of their impact on areas in which they are based. This information should help them when seeking support from donor organisations, an important consideration particularly at this time when pressure on funding from such sources is growing.
"Invest NI assistance is in line with our focus on technology-led companies targeting significant market opportunities outside Northern Ireland. It is now operating successfully in a very significant market niche in both Great Britain and the Republic of Ireland. Business generated by community and voluntary bodies in Great Britain, for instance, is valued at £26 billion and provides employment for around 600,000 people.
"Our objective is to assist Cúnamh ICT to develop the products and skills that will enable it to exploit this vast business opportunity," added Mr Gartland.
Mr MacCafferty, outlining the company's plans, said: "Our technology has been developed with the specific objective of encouraging and assisting community and voluntary bodies to move from their current dependence on paper-based monitoring systems in particular.
"We have had success to date with our Social Impact Tracker product. A new online version is a secure web-enabled database that provides organisations with the ability to capture and report on their social impact. The new version enables seamless access by multiple projects across many sites, does not require bespoke software required on a user's computer and is flexible in terms of development.
"We are now aiming to increase awareness of its benefits through extensive marketing and promotional activities. This will also involve expanding our existing contacts with statutory and governmental bodies which are increasingly requiring such organisations to move to electronic systems.
"The investment will enable us to exploit our business edge which is based on competitive pricing, our extensive knowledge of and experience operating in the community and voluntary sector, versatile software packages and the networks that we've already established."