Cushendall based Redbay Boats launches its newest vessel with Invest NI support
17 August, 2012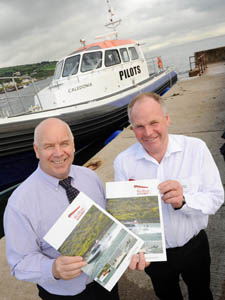 Redbay Boats in Cushendall has launched its pioneering Stormforce 1650 vessel to market following support from Invest Northern Ireland.
The firm designs and builds fibreglass fishing boats and RIBs (Rigid Inflatable Boats), in a range of sizes, for commercial and leisure customers across Great Britain, the Republic of Ireland and beyond.
Its new 16-metre boat, the company's largest Stormforce vessel to date, has the potential to be used internationally as a pilot vessel or a small ferry, carrying over 30 passengers on short trips and crossings.
Invest NI offered Redbay Boats almost £50,000, part funded by the European Regional Development Fund, to support the research and development of this new model. The agency has also offered assistance under its Jobs Fund to support the firm's plans to recruit five additional production staff.
Tom McLaughlin, Managing Director of Redbay Boats, established the business over 35 years ago and recently hosted an event to showcase the new vessel to a number of Port Authority representatives from Great Britain and the Republic of Ireland.
Mr McLaughlin said: "We have been building high quality boats since our foundation in 1977 and have strived to ensure that both our client base and our product range have grown each year. This landmark project will build on the continued success of our Stormforce range and help to generate additional sales among new and existing customers, including passenger carriers, fisheries, coast guard and border agencies.
"Invest NI's support over recent years has been fundamental in progressing our business growth strategy. As well as assisting in the extension of our premises, Invest NI has provided technical and financial support in the development and marketing of our products and helped us to develop the skills of our management team.
"We hope this latest research and development investment will further advance our export presence and help maintain a prosperous future for the company."
Ian Murphy, Invest NI's Director of Scaling and Stage of Development, spoke at the launch saying: "Redbay Boats is an ambitious company which is always striving to stay ahead of the market.
"Its continued investment in innovation has provided the firm with its primary source of competitive advantage. The source of this innovation has always been the company's ability to listen to its customers and translate this feedback into new product ideas with commercial value. The 16m RIB is the latest innovation to emerge from this process.
"Redbay Boats is a prime example of the many export-focused businesses in the wider county Antrim area which Invest NI is helping to achieve their full commercial potential and maximise their contribution to the Northern Ireland economy."
The company currently employs a team of 20 highly skilled, experienced staff who work on each stage of the design, testing, manufacturing, selling and reviewing process at its Gortaclee Road premises.