Dromore premium drinks company is the toast of Stockholm
30 April, 2012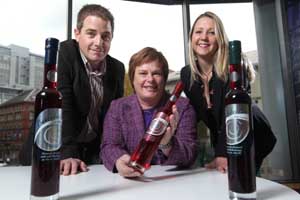 Spirited Drinks in Dromore has won its first export business in Sweden for its Ruby Blue range, premium handcrafted liqueurs, with help from Invest Northern Ireland.
The company has recently shipped the first consignment of its unique Ruby Blue branded berry liqueurs to a major distributor in Stockholm, 4Great Wines, a leading supplier of wines and spirits to many of the top cocktail bars in the Swedish capital and other cities. Spirited Drinks is the holding company which markets the unique liqueurs under Ruby Blue in Europe and as Boozeberries in North America.
The contract in Sweden was announced by Barbara Hughes, Commercial Director of Spirited Drinks, and welcomed by Dr Vicky Kell, Invest NI Trade Director. It follows another recent export success for the company in Turkey.
Dr Kell said: "We've been working with Spirited Drinks to assist the company to build on its success in Great Britain and the Republic of Ireland by pinpointing and exploiting opportunities, particularly in affluent European centres such as Stockholm.
"While the Swedish economy has been affected by the problems of the Eurozone, the nation remains among the most affluent. Stockholm continues to be among the most vibrant European capitals largely because of its position as Scandinavia's financial centre and an acknowledged global hub forhighqualityresearch and innovations.
"The city also boasts world ranked ICT, life science and cleantech. These business successes have resulted in a young, highly educated and increasingly affluent populationkeen to purchase the type of premium products in which Spirited Drinks specialises.
"The company is demonstrating an impressive commitment to export markets and is now being rewarded for its marketing expertise and the outstanding quality of its portfolio of attractively packaged Ruby Blue liqueurs."
Mrs Hughes said: "Securing business in such an affluent and quality conscious centre as Stockholm is a tremendous boost for us as we implement our export strategy to develop a network of distributors with established business in the cocktail bars and lounges that we've targeted as being the best outlets for our distinctively different range of artisan liqueurs.
"The feedback we've received from an initial group of customers has been immensely encouraging. Our cranberry liqueur, for example, has already been described as the world's best for mixing a Cosmopolitan cocktail.
"Invest NI's support has been invaluable in terms of advice and practical support including links to the UK Trade and Investment website where we spotted a request from 4Great Wines for a supplier of premium drinks. We responded, met the distributor in Stockholm and secured the business. We are now working with the distributor on measures to increase awareness of our liqueurs in key cocktail bars in the city."