Enterprise Minister Arlene Foster visits new Lisnaskea mailing company
24 September, 2012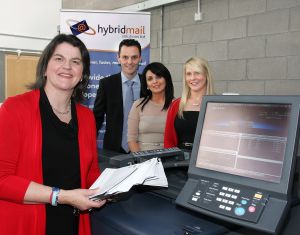 Enterprise Minister Arlene Foster recently attended the official launch of a new Invest Northern Ireland-supported company, Hybrid Mail Solutions, in Lisnaskea, Co Fermanagh.
Hybrid Mail Solutions is an innovative company offering cost-effective bulk mailing and distribution services to businesses and other organisations in the UK and the Republic of Ireland.
It is the first company in Ireland to offer both a printing and mail facility direct into the Republic of Ireland and the UK on the same day, which means it can offer the most convenient and cost effective mailing solution to its customers.
During the Minister's visit to the company's premises she said: "This young export-focused business, set up by local entrepreneur Colum Courtney, has taken an innovative approach to bulk mailing, and has already secured customers across the length and breadth of Northern Ireland and the Republic of Ireland.
"With Invest NI's support, Hybrid Mail Solutions has been able to appoint a Business Development Manager to enable it to focus on growth of the business. Invest NI's support has also contributed to the company's investment in state of the art IT capability and online presence, which enables it to take on contracts of all sizes, including public sector tenders."
Invest NI has offered over £17,000 to the company to support the recruitment of a Business Development Manager and help with website development. It has also provided over £21,000 in support for server hardware and software.
Colum Courtney, Hybrid Mail Solutions' Managing Director and founder, said: "Effectively we provide a print and mail facility direct from our customers' desktop, which offers value for money, security and peace of mind. It's cheaper, greener, faster and a more secure method of posting mail.
"I see great potential for the business. Our bulk mailing solution presents our customers with the opportunity to take unnecessary printing and labour costs out of their organisations while also offering substantial savings on national and international postal rates."