Exports power Acksen's business growth
23 October, 2013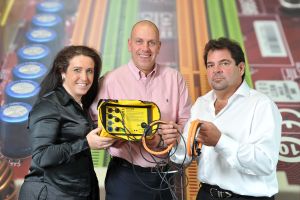 Whiteabbey-based Acksen has won first-time business in the US and Bulgaria worth more than £500,000 with support from Invest Northern Ireland.
Acksen, a Queens University spin out business, is a manufacturer of data loggers that monitor electricity supplies from conventional and solar sources. The data loggers are also used for energy management including electrical fault finding or testing and can be used to solve supply problems and identify areas to improve efficiencies in energy use.
Invest NI offered over £40,000 of support to assist with targeting new market opportunities, primarily in the US, and has worked with the company on an ongoing basis to provide trade advice.
John Hood, Invest NI's Director of Life Sciences, Electronics and Consumer Products, said: "Acksen is now seeing the business benefits of a structured export marketing strategy, which includes support for key marketing activities and participation on trade missions, to build sales in target markets such as the US and Eastern Europe.
"The success this small and ambitious company is now experiencing shows how Invest NI's support can help strengthen the competitiveness of a local business in the global marketplace."
Invest NI support has enabled the company to access a number of international markets, including the US, where the company secured a distribution partner in Ohio. The company also focused on Bulgaria, participating in an Invest NI trade mission last year where they secured a first time contract with a distributor in Sofia.
Charlene Thompson, Acksen's Marketing Manager said: "The new business from the US is our biggest so far. It is giving us a very strong base for growth in our most important market where interest in technology that offers energy savings is a fast developing trend.
"A key selling point of our data loggers is that they offer continuous monitoring of energy input and thereby enable customers to develop measures to ensure cost effective and more efficient use of electricity supply. Invest NI support has been key to helping us pinpoint and access market opportunities.
"We're extremely encouraged by developments in Eastern European markets such as Bulgaria where there is a growing demand for our technology. We have also recently secured new orders from University of Dar es Salaam in Tanzania for our solar loggers and The Electricity Company of Ghana where our products are being used to ensure effective use of solar energy and power generation; this represents a growing market opportunity for us."
Acksen's customers include electrical contractors, power distribution companies, facilities management, electrical or site-services and maintenance engineers.