First export success for Boozeberries in Turkey
05 October, 2011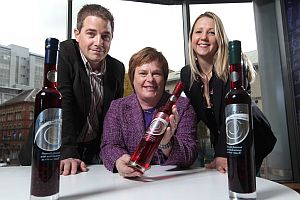 Boozeberries, based in Dromore, Co. Down, has won its first export sales for its handcrafted artisan liqueurs. The company, which has been assisted by Invest Northern Ireland, is now selling its unique range of award winning products in Turkey.
The export breakthrough was announced by Barbara Hughes, Sales Director of the company, and welcomed by Dr Vicky Kell, Invest NI Trade Director, ahead of Boozeberries' first trade mission to Turkey. The company is part of a 12-strong group of local companies on the mission to Turkey, which will be centred in Istanbul, from 18-22 October.
Dr Kell said: "This is an immensely encouraging first export contract for a small but dynamic company which is demonstrating a tremendous commitment to marketing its range of unique and distinctively packaged liqueurs in Europe and in North America.
"The success in Turkey is the outcome of the company responding quickly and very professionally to a tentative inquiry from the distributor in Turkey. Although Turkey was not on their initial export target list, the management team grasped the opportunity by visiting the potential customer and subsequently converting the initial approach into firm business.
"The clear message from Boozeberries' new business in Turkey is that there are worthwhile opportunities for Northern Ireland companies, both large and small, in even the most unexpected markets. However companies must be prepared to look for business beyond Northern Ireland, complete the necessary market research and, perhaps above all, to follow up leads as quickly as possible.
"Ambitious companies will find that Invest NI offers a comprehensive package of very practical support through the recently launched Boosting Business campaign that they can use to grow their business profitably for the wider benefit of the Northern Ireland economy," the Dr Kell added.
Mrs Hughes said: "We hadn't really considered Turkey because it was our impression that it is a Moslem country, so not a viable market for alcohol based products. The distributor, Vodkar Ickler, encouraged us to look at what is a sophisticated market of some 70 million people. The initial approach came last November, and I decided to fly to Istanbul, which was the European City of Culture last year, to see for myself.
"Istanbul has the highest percentage of young professionals in Europe. The city also has a great many excellent restaurants and stylish bars. The distributor loved our products and was very keen to represent us there. As a result of the contract with Vodkar, our complete range of liqueurs is now on sale in many of the city's style bars and in a number of high-end retail outlets.
"We are finding Turkey to be a developing market that repays perseverance and patience. Getting a license to import alcohol into Turkey took a considerable amount of time, but we now see further opportunities there for our products and will be working closely with the distributor to develop these. Our goal is to grow exports to around 75 per cent of business by 2013," added Mrs Hughes.