Foster congratulates Fermanagh candle company on Titanic success
23 March, 2012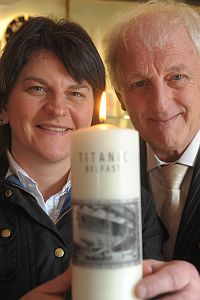 Enterprise Minister Arlene Foster has visited Celebration Candles in Ballinamallard to congratulate the company on securing a contract with the new multi-million pound visitor attraction, Titanic Belfast.
The Fermanagh-based company, which was established in 2000 by Harry Stuart and Doreen Byers, offers a range of giftware and candles for family life occasions.
This contract will see the firm supply its Titanic and Maritime Belfast Heritage themed candles to the visitor attraction's gift store. The candles will be on sale alongside a range of giftware when the building opens later this month.
Invest Northern Ireland has supported the company with its market development activities in recent years, helping it to attract new customers from the US and mainland Europe as well as the Republic of Ireland and Great Britain.
Congratulating the company, Arlene Foster said: "Celebration Candles has achieved notable success in Northern Ireland and the Republic of Ireland due to the contracts and relationships built up with its corporate customers over time.
"Like many businesses, the firm has recognised the need to diversify its product range and actively promote its products to new markets in order to sustain future growth. Invest Northern Ireland's support has enabled Celebration Candles to capitalise on opportunities for its products within the lucrative wedding, giftware and personalisation markets.
"Securing business with Titanic Belfast offers Celebration Candles the opportunity to raise its profile among the thousands of visitors expected to visit the attraction and leverage future business opportunities in international markets."
Harry Stuart from Celebration Candles said: "Securing this contract with Titanic Belfast is a significant boost for the company which will offer us a platform to showcase our products at a world-class visitor attraction.
"Support from Invest NI has helped us to enhance our overall competitiveness and this contract will be an important stepping stone as we seek to increase our market share in the UK, mainland Europe and the US."