Foster launches new Intellectual Property Starter Pack
19 December, 2011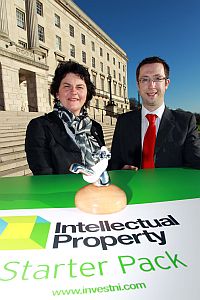 Enterprise Minister Arlene Foster has launched an Intellectual Property Starter Pack aimed at helping local companies understand the intellectual property they own.
Developed by Invest Northern Ireland as part of its wider Boosting Business initiative, it includes guides to the main types of intellectual property including patents, trademarks, copyright and design registration. Non Disclosure Agreements and licensing are also explained.
Arlene Foster said: "Intellectual property can be an extremely valuable asset for companies. However, protecting and successfully commercialising intellectual assets can be a major challenge to manage and finance. The Intellectual Property Starter Pack, which includes both paper and web based information, provides detailed guidance on how to effectively protect and exploit intellectual property.
"This user-friendly pack offering enhanced support under our Boosting Business initiative is available to all Northern Ireland companies regardless of size."
One inventor who has benefitted from the support is Ian Elliot who successfully used Intellectual Property to protect and exploit his Tap Strap product. Tap Strap is a simple but innovative way to protect young children from the significant danger of turning on a hot water bath tap. Ian Elliot said: "Having developed a number of prototypes I approached Invest NI for advice and support. They advised me to apply for a UK patent on the idea, helped me negotiate a licensing deal and assisted with my attendance at a trade show in London. The product is now selling successfully across the UK and there are plans to start selling in the rest of Europe."