FSL wins business from Invest NI 'Going South Africa' initiative
12 December, 2011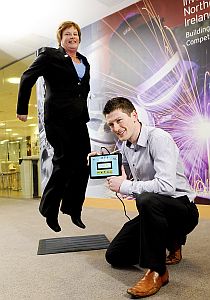 FSL Electronics in Cookstown secured export business for two innovative products from taking part in 'Going South Africa', a recently launched Invest Northern Ireland trade initiative.
The Tyrone company, a specialist in the design and manufacture of electronic devices for key industries such as materials handling and sports equipment, was among six smaller businesses to take part in the first 'Going South Africa' programme.
After preparation and market research to identify opportunities and potential target customers, the group spent a week exploring business opportunities in Johannesburg and other business centres. They were able to draw on the market knowledge and contacts of an Invest NI in-market resource in pinpointing opportunities and arranging meetings with potential customers.
FSL has secured initial business for its 'JumpMat' and 'Ultrabeam' Infrared remote controllers from two companies in Johannesburg, according to Cathal Rodgers, the company's Business Development Manager, who visited South Africa with the group for the first time.
Dr Vicky Kell, Invest NI Trade Director, welcoming FSL's success, said: "We launched the 'Going South Africa' initiative to help smaller companies in particular to access the huge opportunities that we identified for Northern Ireland products and services during a recent series of trade missions to this developing and strategically important marketplace.
"This new approach in South Africa is based essentially on the achievements of smaller companies which have taken part on our highly successful 'Going Dutch' initiative. We understand the need to link Northern Ireland companies to an experienced in-market trade development resource to help with identifying specific opportunities on a one-to-one basis and then provide tailored support to set up meetings and develop company export selling expertise.
"Our in-market resource will also advise and guide the participating companies on business procedures and requirements in what is a receptive market for NI businesses. It is, of course, an English speaking market in which finance and business are largely based on UK procedures. Time difference is minimal, easing cross-market business liaison.
"The South African economy continues to grow and to offer significant trade opportunities. In addition, South Africa is a springboard to other markets in Sub Saharan Africa and further afield."
Mr Rodgers said: "The visit was excellent and will provide a platform for us to build on the initial sales by setting up distributors for JumpMat and our remote controllers. It was very well organised by Invest NI and supported by their in-market partners, Dinsmore and Associates, who were tremendously knowledgeable and keen to help us achieve the business objectives that we set ahead of the visit.
"While we have secured business in this market via recent mission participation through Sales Director Paul O'Hara for our electronic scoreboards, JumpMat and the remote controllers were both new to the market; both attracted significant interest and very positive feedback from potential customers. On the basis of the initial sales and overall feedback, I am confident that we will win further business there for both products in the near future."