Heavenly Tasty in export breakthrough in Bahrain
09 July, 2013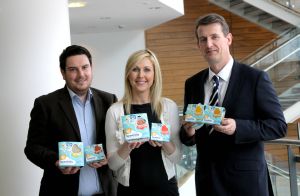 Heavenly Tasty Organics, the Omagh-based manufacturer of organic baby weaning meals, has been helped by Invest Northern Ireland to win business in Bahrain, its first export contract.
The award winning small business is supplying fruit and vegetable puree meals to the Al Osra group of stores in the Gulf state. The lead that produced the deal for Heavenly Tasty Organics was provided by an Invest NI food marketing adviser in London.
The company's first business outside the British Isles was announced by Shauna McCarney-Blair, Managing Director and founder of Heavenly Tasty Organics, and welcomed by Barry McBride, Invest NI Director International Business.
Mrs McCarney-Blair, commenting on the deal, said: "Invest NI's adviser in London arranged for us to meet a distributor of UK foods to Al Osra. We provided samples of some of our products suitable for Gulf markets and subsequently received an initial order for our fruit and vegetable purees for babies aged seven months and over.
"This is an immensely exciting opportunity for us and one we will be endeavouring to develop further in the months ahead. While Bahrain is a relatively small market, there is a significant expatriate population there. Our aim will also be to use Bahrain as a springboard to other and much larger markets in the region such as the United Arab Emirates.
"Invest NI's support and encouragement for our business is tremendously important especially in terms of pinpointing potential distributors in export markets and the support that enabled us to take part in major international trade shows such as SIAL in Paris. We are also currently following up inquiries from France and Germany about our products," she added.
Mr McBride said: "This is an immensely encouraging development by Heavenly Tasty Organics, a small company that is showing tremendous commitment to business growth outside Northern Ireland. The company is quick to act positively on expert advice and to follow up business leads provided by the Invest NI team members who have a wealth of contacts in key international markets.
"The company's first business abroad shows what a small company can achieve with the right products and a determination to do whatever is required to pursue and secure business in international markets. Our marketing team in Dubai will readily work alongside the company to build on the business in Bahrain and strengthen its position in the wider and very affluent Gulf marketplace."
Heavenly Tasty Organics, formed in 2011, has also used Invest NI's Design Development Programme to develop a new corporate identity and more eye catching packaging for its range of 11 baby weaning meals, which are 100 per cent natural and dairy free. In addition nine are gluten-free.