Innotribe Start-up Challenge and Conference launches in Northern Ireland
02 April, 2012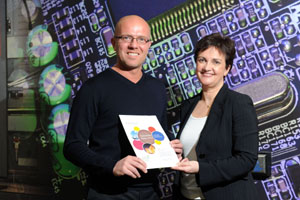 Invest Northern Ireland recently hosted a workshop to launch a leading international financial services event for Northern Ireland.
The Innotribe Start-up Challenge and Conference, organised by Innotribe, the innovation arm of SWIFT (Society for Worldwide lnterbank Financial Telecommunication), is designed to enable collaborative innovation amongst banking organisations, securities institutions and corporate customers worldwide.
The high profile competition and conference covering Europe, Middle East and Africa, will take place at Titanic Belfast on 13th and 14th June 2012. The Belfast event is one of a number of regional heats in the competition. The global final will be held at SIBOS, SWIFT's annual flagship event which will take place in Osaka at the end of October.
Delegates from across Ireland and mainland Europe with a focus on innovation and financial services attended the workshop, to learn how entering the competition could help boost their presence among the sector's influential international community of potential funders and customers.
Addressing the attendees, Matteo Rizzi, Innovation Manager for SWIFT, said: "We are excited to be launching Innotribe's EMEA Start-up Challenge and Conference here in Belfast. Innotribe offers an unprecedented networking experience for companies, bringing together like-minded
innovators from the financial industry in an intellectually stimulating, interactive and content-rich event. It's a great opportunity for the best and brightest financial industry start-ups in Northern Ireland to take part and I'm really encouraged by the interest of local companies."
The Innotribe Start-up Challenge is open to early stage and later stage start-up companies which can demonstrate the potential to deliver the most important new products and services to the global financial industry.
Grainne McVeigh, Director Europe & Russia, Invest NI, added: "As Innotribe's global partner this year, we are delighted that Innotribe has selected Northern Ireland as the location for its EMEA event. Northern Ireland has a strong cluster of financial companies with innovative products and services already working in this space and I would really encourage them to enter the competition and take advantage of the opportunity to pitch to key players in the industry.
"The event represents a significant opportunity to support and develop Northern Ireland's position as a location for high value financial services investment."
The competition opens for entries on 15 April and closes on 12 May, further information can be found at http://www.innotribestartup.com.