Invest NI Assists Burren Balsamics to Secure Business in Britain
14 May, 2015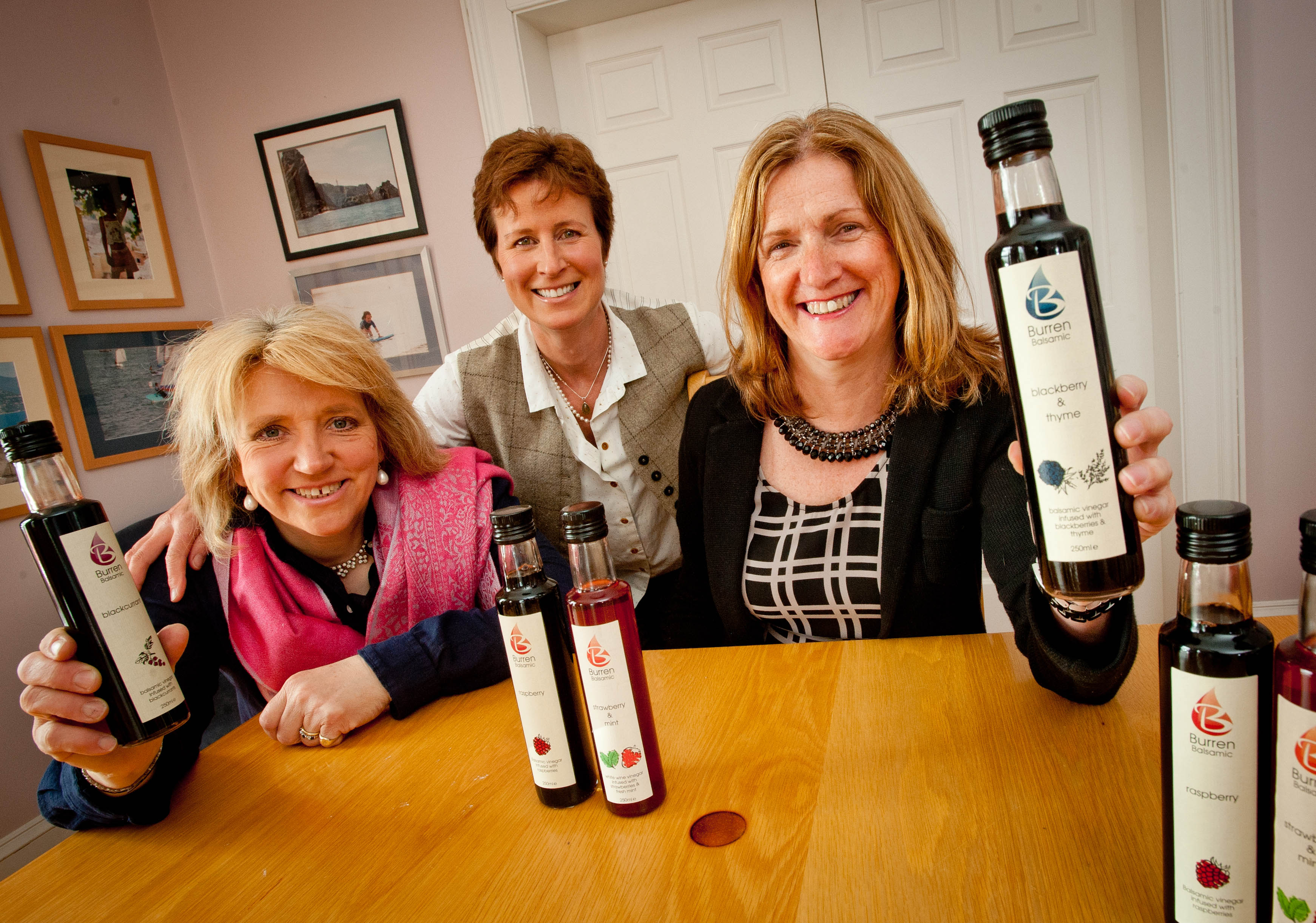 Burren Balsamics in Ballynahinch has won its first business in Britain with help from Invest Northern Ireland.
The company, formed by close friends Susie Hamilton Stubber and Susan Robinson, used an Invest NI Innovation Voucher in the development of a unique six-strong range of natural fruit infused vinegars and has now secured business from a distributor in England.
Olive Hill, Invest NI's Director of Innovation and Technology Solutions, said: "Burren Balsamics has used the Innovation Voucher to help in bringing its range of balsamic vinegars to market.
"The voucher provided assistance of £4,000 to enable the start-up business to link up with experts at the Loughry Campus of the College of Agriculture, Food and Rural Enterprise (CAFRE) in testing the vinegars and in the provision of essential nutritional data for its labels that retailers require.
"Winning business in Britain at such an early stage in this start-up enterprise's development is a tremendous boost for the company and also shows the value of the Innovation Voucher scheme in helping to successfully bring original products to market faster."
Mrs Hamilton Stubber said: "We formed the business in 2014 following feedback from a fundraising Christmas market in Ballynahinch. We both have a background in catering and decided to use the balsamic vinegars we had developed for our own meals at home to raise funds for the Marie Curie Cancer Care Charity. The success of the vinegars led us to set up Burren Balsamics and to start selling the products at country markets and to local delis.
"We soon realised from discussions with retailers, however, that we needed advice and help with nutritional information for our labels and decided to turn to Invest NI for guidance. The Innovation Voucher was extremely beneficial in that it enabled us to tap into CAFRE's expertise and take steps to ensure we met the requirements of retailers.
"The business in Britain followed an approach from the distributor in Chichester who had heard about the balsamic vinegars and was keen to represent us. We sent samples over and an order followed. It's tremendously exciting for us to find our products now attracting interest outside Northern Ireland.
"We believe that we have found a gap in the market which we can fill with our flavoured balsamics that offer endless possibilities to enhance salad dishes, stews and casseroles, marinades and soups. They are also delicious to just dip bread into," adds Susie.
Burren Balsamics was formally established in February 2014. It produces fruit infused balsamic vinegars using locally sourced ingredients such as bramley apples, blackcurrants, strawberries and blueberries.
The vinegars have also been market tested by several chefs in local restaurants to sample them and add to dishes.