Invest NI Assists New Gin Micro Distillery in Crossgar
11 June, 2014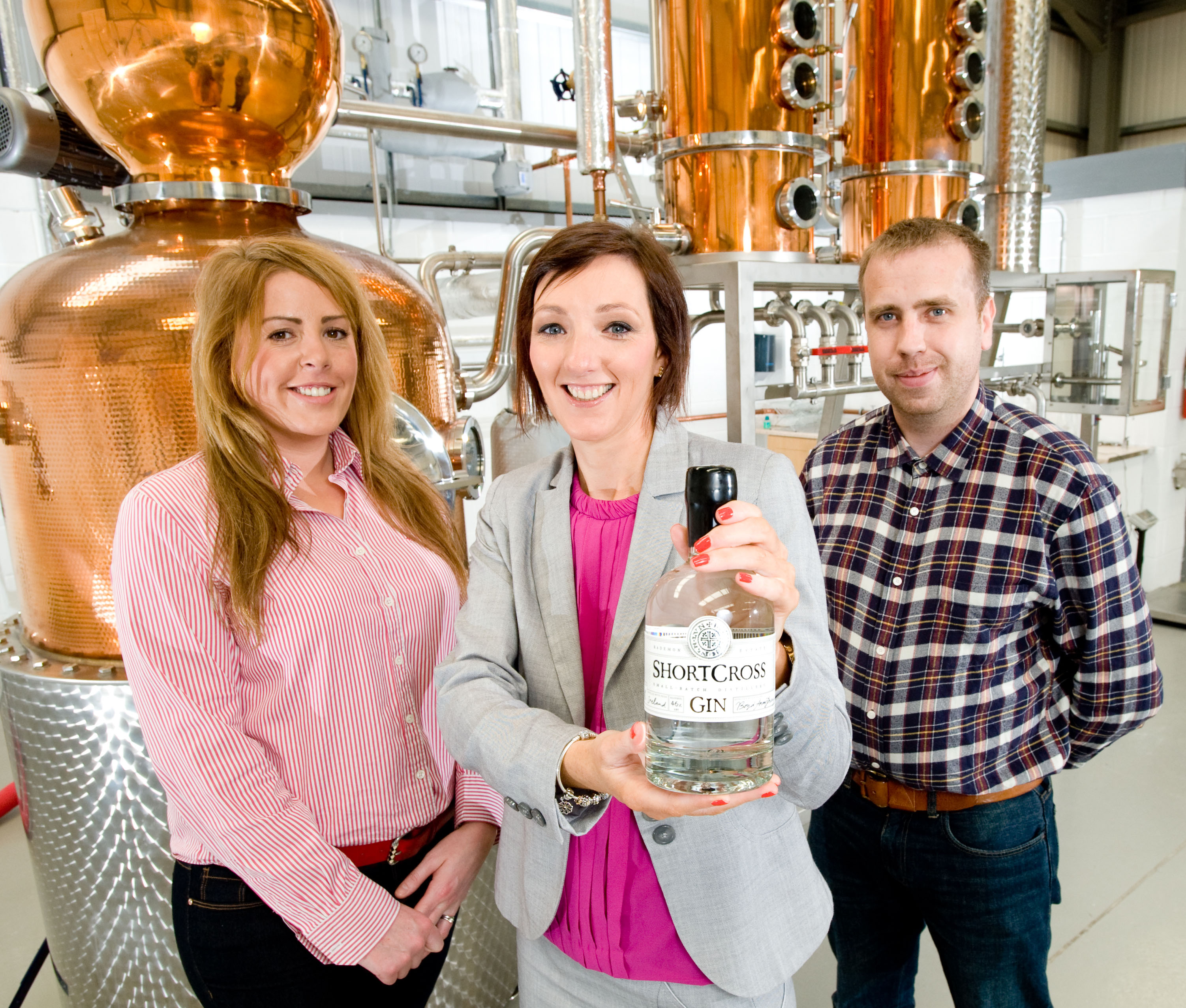 Rademon Drinks in Crossgar has been assisted by Invest Northern Ireland to develop and launch the first premium gin here for over a century in a £500,000 project that will also provide three new jobs.
The company's ShortCross Premium Gin is the first in a portfolio of small batch alcoholic beverages that the company plans to develop at its new boutique distillery on the town's Rademon Estate.
Invest NI has provided assistance of £42,782 to enable Rademon Drinks to explore export opportunities especially for the new gin. In addition, the company has received design and technical assistance.
Rademon Drinks was established by husband and wife team David and Fiona Boyd-Armstrong in April 2012 and is the outcome of extensive market research in Britain and other international markets into opportunities for craft-based premium drinks.
Moira Loughran, Invest NI's Eastern Regional Manager, said: "This is a very innovative business initiative that's targeted at a niche sector of the global drinks market. Premium craft spirits is presently showing good growth in Britain and further afield, especially among younger consumers.
"The company is also seeking to build on a demand for products with heritage and provenance, that's been growing in importance over the past five years.
"Invest NI's support to the company reflects our strategic focus on promoting enterprise, innovation and internationalisation with the food and drink industry, which currently contributes around £4.5 billion to the local economy according to the Agri-Food Strategy Board for Northern Ireland.
"A key objective for Invest NI is to encourage and assist the development of existing and new branded products, including beverages, that have the potential to achieve international success. This goal is also shared by the Agri-Food Strategy Board in its Going for Growth strategic action plan," she added.
Mrs Boyd-Armstrong said: "Our objective in setting up Rademon Drinks is to exploit a developing market opportunity in Britain and other parts of Europe for premium small batch gin and other spirits.
"Although the overall UK gin market experienced a small decline in sales between 2006 and 2011, premium gins are increasing in popularity, especially among younger consumers who are becoming much more adventurous and prepared to try new styles of established spirits.
"We are seeking to revive a distilling tradition that stretches back over two centuries to a period when many larger towns in Northern Ireland had distilleries producing gin. Our products, however, are being pitched at the upper-end of the market, superior spirits, especially in terms of taste, which are produced in small batches with tight quality controls and can, therefore, command premium prices. Our ShortCross super premium gin, launched in April with leading restaurants and widely respected wine merchants, is already attracting very positive feedback."