Invest NI expands international network with new office in Sydney
14 November, 2017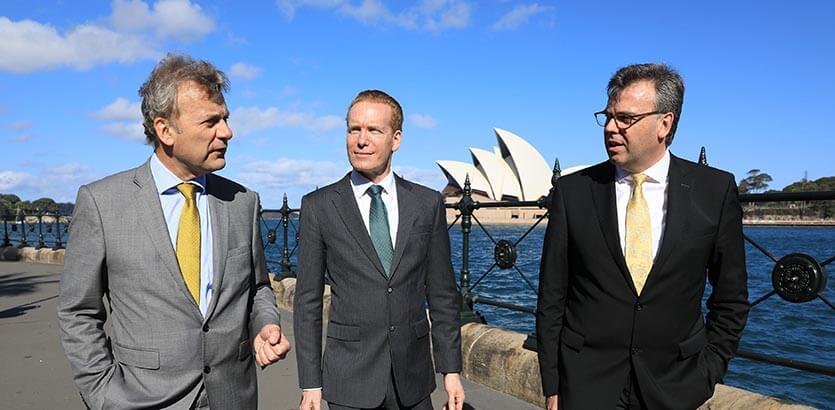 Invest Northern Ireland is to increase its presence in Australia with a new Regional Manager to be based in Sydney.
The announcement comes as Invest NI's Chief Executive, Alastair Hamilton leads a trade mission to Australia from 13-17 November 2017. The trade mission includes thirteen companies from a number of leading Northern Ireland sectors including ICT, Advanced Manufacturing & Engineering and Life & Health Sciences.
The Australian market offers Northern Ireland companies exciting opportunities to grow their exports.
- Alastair Hamilton, Invest NI
Speaking from the opening of the new office, Mr Hamilton said: "The Australian market offers Northern Ireland companies exciting opportunities to grow their exports. The latest figures from HMRC show that in the 12 months between July 2016 and June 2017 NI manufacturing exports to the Asia Pacific region increased by 19 per cent to £761million with exports to Australia accounting for £105 million of this.
"Northern Ireland companies including Mallaghan Engineering, Mivan Marine, CDE Global and NC Engineering are great examples of companies already successfully exporting to this region. To build on this and support our businesses in this market we are opening a new office in Sydney."
This is the eighth location to be announced as part of Invest NI's commitment to expand its international presence to help companies to grow exports.
"I am delighted to welcome Peter Hendrikssen, our new Regional Manager who will be based at the British Consulate-General in Sydney. Peter will have a specific focus on helping our businesses to increase exports across Australia and New Zealand. He will also play an integral role in supporting our strategy to support companies to increase sales outside Northern Ireland by up to £3.1bn by 2021." he added.
The Australian trade mission is visiting Sydney and Melbourne from 13-17 November 2017 with representatives from Botanica International, Cirdan Imaging Ltd, Core Systems, Foods Connected Ltd, FSL Electronics, Glens of Antrim Potatoes, Maximus Crushing & Screening, McCloskey Washing Systems, Mivan Marine, Sixty-5, Mallaghan, Ulster Weavers Ltd and Terex participating.