Invest NI helps local company develop leading edge perimeter security
30 August, 2013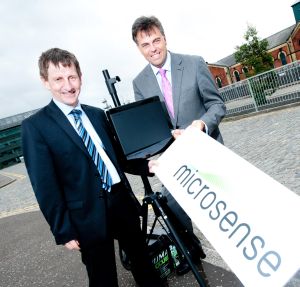 With R&D support from Invest Northern Ireland, local company MicroSense Solutions Ltd is developing the next generation of microwave perimeter detection systems through a £580,000 investment project.
The innovative R&D project will position MicroSense as one of the world's most advanced microwave perimeter protection companies and will open several new markets for this exciting, new technology. MicroSense is creating a range of intelligent wireless fence solutions as well as creating 10 new jobs.
Invest NI has offered £274,000 of R&D support, part funded by the European Regional Development Fund.
The fence system being developed is a wireless microwave barrier that can be installed beside a conventional fence to create an invisible, curtain-like protective screen. One focus of the research will be to integrate this technology with CCTV analytics and other more traditional security access technologies to transmit information and pictures from the fence to mobile devices and alarm response centres.
Alastair Hamilton, Chief Executive of Invest NI, said: "This new approach to perimeter security has the potential for widespread global application in many markets, ranging from military, to airports, prisons, power plants, schools and business facilities.
"MicroSense's R&D project will bring together microwave and communications technology to create a security solution that has many benefits over existing systems, and which is already attracting attention from interested parties around the world. With the added benefit of 10 new high quality jobs, this will be an important and valuable project for Northern Ireland."
Dr Stephen Seawright, CEO, MicroSense commented: "Our new R&D programme will greatly enhance our intellectual property and product portfolio, building on the IP we have licensed from Queens University. The research programme will create a number of high value jobs in Northern Ireland and keep MicroSense at the forefront of innovative solutions. Invest NI's support will accelerate our progress, allowing us to grow our base and our sales abroad."