Invest NI Helps Textile Company Secure Business with Barbour
29 January, 2014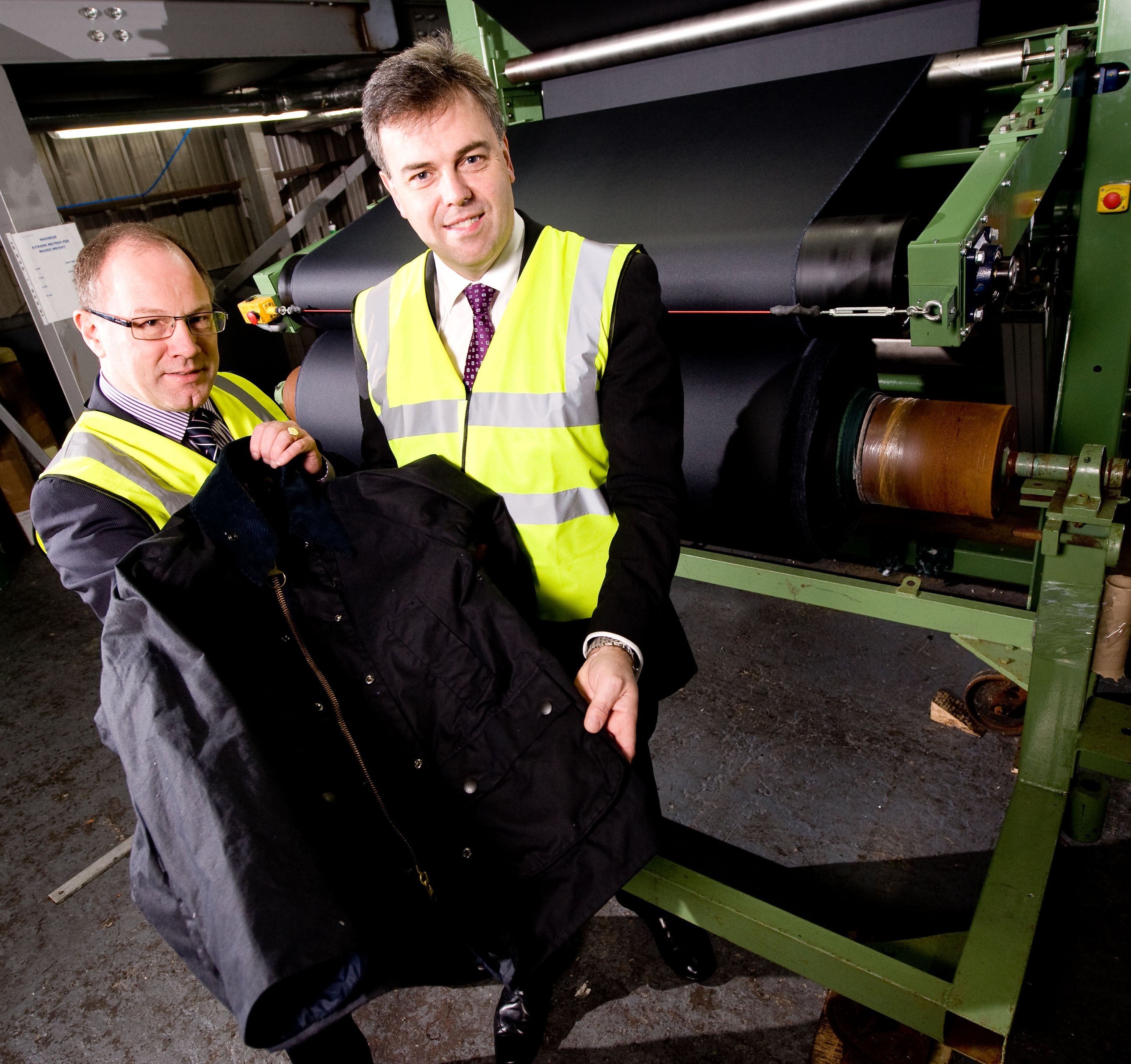 Francis Dinsmore Ltd has secured a contract with global brand Barbour, following an investment in a new production facility supported by Invest Northern Ireland.
The company, based in Kells, is investing over £1 million to create the new facility to apply wax coatings to textiles. The investment is projected to create 16 new jobs. Invest NI has offered capital, employment and skills development assistance towards this project, which has been part funded by the European Regional Development Fund.
Francis Dinsmore has been providing a textile dyeing and finishing service for over 200 years. In recent years the company has added new textile finishes such as flame retardant, water repellent, anti-bacterial and now wax coatings, as well as exploring new composite fabrics.
As a result of the recent investment, Dinsmore's has received a substantial order from Barbour for wax coated fabric to be produced at the new Kells wax production unit in 2014.
Barry Corrigan, Managing Director and owner of Francis Dinsmore, said: "We're delighted to have secured this contract with Barbour, a highly respected global heritage and lifestyle brand, and will use it as a springboard to market this new product on a global basis.
"We're investing not only in new equipment but also in new staff and skills development to ensure that we can fully benefit from this opportunity. Invest NI's support has been crucial to allowing us to introduce this latest innovative production process and to enhance the skills of existing and new employees."
The new wax coating facility is expected to enable the company to increase its exports sales across Europe and USA.
During a recent visit to Francis Dinsmore, Invest NI Chief Executive Alastair Hamilton congratulated the company on its success. He said: "Despite the decline in the traditional textiles sector, Francis Dinsmore has grown its business by continuously innovating and finding new products and markets. This contract with Barbour reflects its strong reputation for quality and customer service.
"Dinsmore's has received a range of Invest NI support over the past few years to help it set the direction for the business, explore new markets and products and ensure that its operations are running cost effectively. We'll continue to work with the company to help it win new business and secure its long-term sustainability."
The 16 new jobs will bring total employment at the company to 54.