Invest NI secures high value jobs investment by IT company
27 June, 2013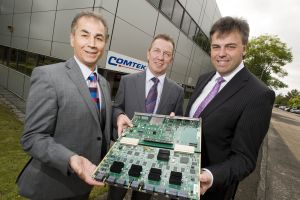 Invest Northern Ireland's Chief Executive, Alastair Hamilton, today welcomed the news that Comtek Network Systems (UK) Ltd is establishing a specialist Service and Repair Engineering Centre in Newtownabbey, creating 21 new jobs.
Comtek is a Pan-European provider of repairs and support to the telecoms, datacoms and network service industry and end-users. It works with leading systems integrators, distributors and end users to extend the life of legacy IT and telecoms equipment, irrespective of its age or manufacturer.
The investment is being supported by Invest NI, which has offered £157,500. Speaking during a visit to the company's premises at the former Nortel site in Newtownabbey, Alastair Hamilton said: "I'm delighted that, with Invest NI's support, Northern Ireland has again been able to secure another valuable inward investment from a company in the growing IT Telecoms and Network Servicing sector.
"Comtek is creating 21 high value jobs over the next three years, which is good news for the local economy. Its presence will also add to the expanding cluster of IT Service companies that we now have in Northern Ireland further enhancing our reputation as a region of excellence in this sector.
"Through its services, which essentially extend the life of telecoms and network assets, Comtek is also helping to address the growing global problem of electronic waste and is therefore contributing to environmental sustainability."
Comtek currently works with a number of leading global telecoms integrators and carriers, and the new centre will initially focus on repairing and servicing high value specialist Nortel optical switching equipment. In the long term the centre will cater for a wide range of products from various telecoms and network manufacturers.
Askar Sheibani, CEO of Comtek said: "We believe that communications products in the main can provide almost unlimited years of useful service and therefore do not need to be discarded as a consequence of companies upgrading their equipment. Our long-term strategy, therefore, is to move our core focus to telecoms systems repairs.
"Our decision to set up this centre in Northern Ireland was heavily influenced by the availability of relevant telecoms engineering skills in the region. We are also grateful for Invest NI's support and look forward to working with them as we grow our business in Northern Ireland."