Invest NI supports development of Crescent Diagnostics' breakthrough diagnostic test
14 May, 2012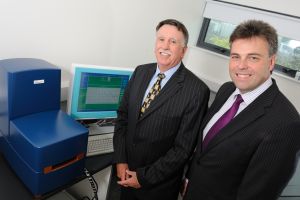 Clinical diagnostics company, Crescent Diagnostics Ltd (Crescent), is to set up a research and development project in Londonderry to develop a predictive test for osteoporosis.
The company is headquartered at NovaUCD, Dublin and has a lab at C-TRIC (the Clinical Translational Research and Innovation Centre) in Derry.
The project is being supported by Invest Northern Ireland, which has offered over £23,000 of assistance, part funded by the European Regional Development Fund.
Alastair Hamilton, Invest NI's Chief Executive, announced the project, which it is estimated to take six months.
He said: "This project aims to develop a breakthrough predictive test that will be used by doctors across Europe and the USA to help identify those who are at high risk of suffering a hip fracture – the most devastating consequence of osteoporosis.
"Osteoporosis has become a major public health issue and Crescent has identified a market need for an improved diagnostic tool, which has substantial potential for global sales.
"By carrying out the R&D project in Londonderry, Crescent is planning to tap into the research capability at Queen's University as well as the extensive facilities at C-TRIC.
"This is the kind of high-value, frontier technology that Invest NI is keen to support and I am pleased that Crescent chose to carry out the next stage of product development in Northern Ireland."
Osteoporosis is a weakening of the bones, which can cause fractures. According to the National Osteoporosis Society, almost three million people in the UK are estimated to have the condition and one in two women in the UK over the age of 50 will break a bone as a consequence.
The test process being developed by Crescent Diagnostics involves taking a toenail clipping from the patient and sending it to a laboratory for analysis using the company's BQT® nail analyser. The protein structure of the nail can indicate the health of the patient's bones.
Brendan Farrell, CEO of Crescent Diagnostics, said: "Osteoporosis is preventable, but most people only find out that they have the disease after they have a fracture. Our technology will help clinicians identify at-risk patients early and effectively, revolutionising the diagnosis of the disease."
The announcement of the R&D project coincides with C-TRIC's fourth annual conference which took place last week. It focused on inflammatory processes and cardiovascular disease. The conference attracted hundreds of clinicians and business people and is recognized as a leading forum for translational medicine.