Invest NI teams up with Disability Action to highlight support for entrepreneurs
22 September, 2011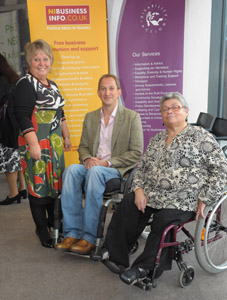 Invest Northern Ireland in partnership with Disability Action today hosted the Working for Me seminar in Belfast to raise awareness of the support available to disabled people who want to set up a business.
Starting and running a successful business can be a challenge, but with determination, confidence and the right support in place, an entrepreneur with a viable product or service can succeed. People with disabilities, however, may find they face additional challenges.
The Working for Me event brought together a number of organisations to discuss the issues around starting a business with 50 aspiring entrepreneurs.
Sharon Polson, from Invest NI's Regional Business Team, said: "Disability should not be seen as a barrier to starting your own business. Often the first step is finding out where you can access support and advice, that's what today was all about. Invest NI offers a wide range of start-up support which is available to all entrepreneurs across Northern Ireland and is easily accessible through our regional offices, advisors and website."
Monica Wilson, Chief Executive of Disability Action, said: "Self-employment has many benefits including the opportunity for flexible working, which appeals to many people including those with disabilities. However, people with disabilities often find it difficult to find information on self-employment as an option. This event is an opportunity to bring together a wide range of stakeholders to raise awareness of the support available to disabled people setting up a business."
Speaking at the event was Guy Harris, founder of the business http://www.DisabledGear.com, which he set up after being paralysed in an accident. He said: "Starting your own business is hard work, but the rewards of seeing your good idea working for you and helping others is fantastic. There are so many opportunities in the disability market, that we need more entrepreneurs with disabilities to take advantage of them, as they seem to be the ones that solve the problems best."
Ms Polson added: "To have an entrepreneur like Guy talking to this group of potential entrepreneurs is very important. His success shows that, with the right planning and support, good business ideas can create good businesses. I hope that through today's event more disabled people are inspired and motivated to start their own business."